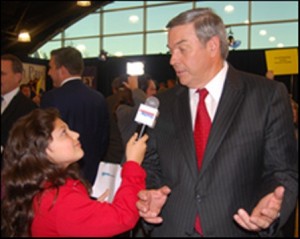 The New York Times this morning seems greatly concerned that CBS News and National Journal and a whole bunch of other outlets are sending young — too young? — reporters out to cover the campaign trail. These young reporters, sanguine and cheap as they come, are hoping on the bus straight from college and "none of them seem quite sure what to expect from more than a year on the road." They'll have to learn how to eat and drive and to "get the line" and they'll have to do it all in what Jeremy W. Peters calls a "new, more perilous media climate." New and more perilous for whom, though?
The story seems to assume that younger reporters, and their lack of experience, are far more likely to do something embarrassing — like get caught checking their Facebook on the trail, as Fernando Suarez of CBS says he was while covering Hillary Clinton's presidential campaign; that someone might catch them in a private moment on FlipCam, or leak their personal emails; that they might tweet too much. Are these youth problems? Or just problems?
Mostly, the concern seems to be that young journalists, on their smart phones checking their twitter feeds all day, might be inclined to let news leak before it gets back to the newsroom. Caroline Horn, a senior producer at CBS Evening News is quoted as saying so much. "If Jon Huntsman drops out of the race, we want to know back at the news desk," she says, "we don't want to find out about it on Twitter." But these days, even when churning at full speed, news always breaks first on twitter, and in order to accommodate that fact, places like the NYT have begun running curated twitter streams on their homepage during major news event (they did this during last weeks hurricane, for example).
It's not such a new thing to put kids on the bus, and even Peters, himself, began stringing for the Times when he was only still in college. Life on the road is less than glamorous, and seasoned reporters aren't always eager to take on the long and sometimes news-less days. And so while these young journalists inexperience may be reason for concern, it seems helpful to remember that lots of young journalists got their legs on the trail. And more importantly, it seems plausible that young reporters, having grown up with twitter and flip cams and blog-drama, might actually be more fluent in this "new, more perilous media climate."
Have a tip we should know? tips@mediaite.com