Back In Action: Disgraced Rep. Anthony Weiner Returns To Twitter To Promote Hurricane Relief
Former New York Rep. Anthony Weiner has published his first tweet since being shamed in front of the entire nation for his lewd Twitter photo scandal. The former politician, whose last tweet was posted on June 1, 2011, tweeted a YouTube video the day after Election Day about the help the Rockaways need post-Hurricane Sandy.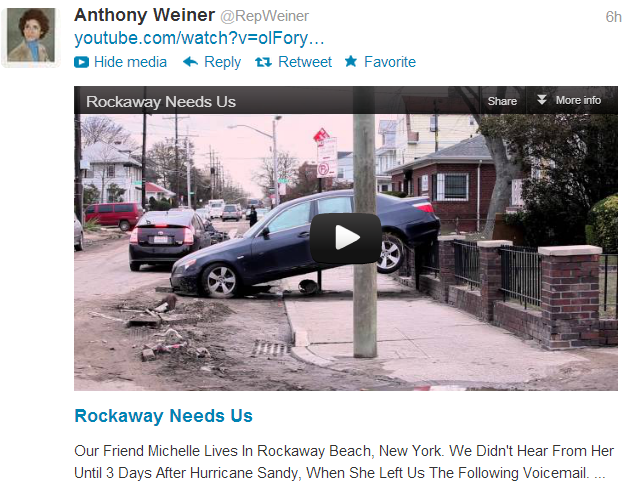 The "Rockaway Needs Us" video was posted three days ago and explains the dire situation of the Rockaways, which some argue have gone forgotten in the Sandy aftermath. The clip includes a worrisome voice message from a woman named Michelle who says "there's no power, there's no service, there's no phones" and makes "fire in the streets at night" in the Rockaways because of the storm. According to the New York Post, Weiner also has been volunteering in the Rockaways with wife Huma Abedin and Chelsea Clinton.
Weiner headlined the news cycle last summer for accidentally publishing a snapshot of his crotch on Twitter. The late Andrew Breitbart first noticed the tweet, and Weiner initially claimed that his account had been hacked. The underwear snapshot ended up being only the first of many Internet-related incidents involving Weiner, as he was accused of taking shirtless gym photos of himself for someone other than his spouse and firing out sexually explicit texts to women.
He went on to do an uncomfortable interview with CNN's Wolf Blitzer in which he lied about being possibly hacked and would not answer whether the photo in question was of his genitals. After a slew of different photos and stories surrounding him surfaced, he held a press conference to apologize and stepped down from his position of power.
h/t NY Post
>> Follow Laura (@LauraDonovanUA) on Twitter
Have a tip we should know? [email protected]