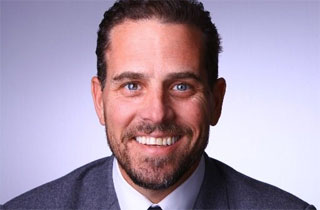 Today, Burisma Holdings, a company that describes itself as "Ukraine's largest private gas producer," announced the newest member of its Board of Directors: R. Hunter Biden, a seasoned lawyer with extensive international business experience, will be in charge of the company's legal unit, as well as "provide support for the Company among international organizations." His end goal: to guide the company in a manner that will "contribute to the economy and benefit the people of Ukraine."
Biden also has a prominent dad who's part of an administration currently embroiled in a conflict with Russia over the Ukraine, so, that's cool too.
And it's not just that Joe Biden is his father, it's that Joe Biden has openly pledged to help Ukraine gain "energy independence" from Russia while condemning the latter's recent annexation of the Crimean peninsula. Really, this is an awkward situation.
While it's normal for the powerful children of powerful people to be pulled onto the boards of vast multinational corporations, the fact that Biden happened to join a Ukrainian energy company in the midst of the conflict in Crimea is probably not a good idea. First, as the Russian media quickly proved, it immediately breeds speculation about Americans attempting to secure their energy interests in Ukraine. Second, the best way to spark accusations of "conflicts of interest" is by appointing a man to your board who is, literally, the spitting image of America's Vice President.
Nevertheless, the White House shot down any notion that there was a conflict of interest, telling Business Insider: "Hunter Biden is a private citizen and a lawyer. The Vice President does not endorse any particular company and has no involvement with this company."
The White House has a point, but either way, this is an extremely uncomfortable situation that may likely lead to "escalating conflicts" and "disintegrating relationships between Russia and the US."
[h/t Business Insider]
[Image via Burisma Holdings]
—
>> Follow Tina Nguyen (@Tina_Nguyen) on Twitter
Have a tip we should know? tips@mediaite.com