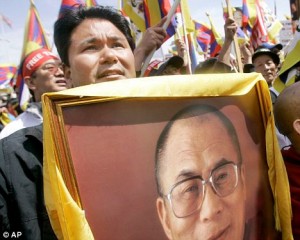 Now here's a sad story. Jigme K. Norbu, nephew of the Dalai Lama, was killed last night in Florida. Norbu was walking along a highway at night as part of a trek for Tibetan peace when he was accidentally hit by a driver.
From the Associated Press:
"Jigme K. Norbu was hit after dark Monday on the side of the unlit highway by an SUV driven by a father with his 5-year-old son. The Highway Patrol accident report said Norbu, 45, was walking on the white line in the same direction as traffic, on the southbound side of a state highway that runs the length of the state's Atlantic coast.
Police released few other details. Norbu, who lived in Bloomington, Ind., and was active in a Tibetan rights group there, had started with others Monday on a Valentine's Day 'Walk for Tibet' meant to cover some 300 miles from St. Augustine south to West Palm Beach, according to his group, Ambassadors For World Peace."
The walk Norbu was on was meant to commemorate the 50th anniversary of the Tibetan attempted rebellion against China that led to exile of his uncle.
As horrible as this is and the world will clearly mourn the loss of a wonderful man, I can't help but also feel horrible for the driver. I mean, I can't imagine anything worse than accidentally killing another human being. And then to discover that it's the Dalai Lama's nephew? And then to discover he was on a 300 mile walk for peace?
Just sad, sad stuff.
(photo via the Associated Press)
Have a tip we should know? tips@mediaite.com