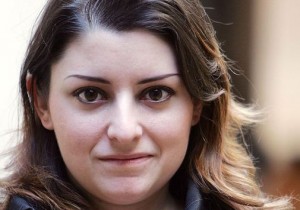 From the "What New York Media Types are Fighting About This Week" file comes a(n ongoing) feud between Rupert Murdoch biographer and Vanity Fair columnist Michael Wolff and Elizabeth Spiers, Gawker founding editor and current editor in chief of The New York Observer.
Wolff, who is not exactly known for being extra chummy with others fighting for air inside the tiny bubble that is media writing, oversaw a column in AdWeek (he's the publications' editorial director) by staff writer Dylan Byers: "Elizabeth Spiers and N.Y. Observer: Married in Hell? Can the devil of snark and the boy real estate heir survive each other?." The article bemoans (yet attempts to explain the possible strategy behind) Spiers' appointment at The Observer's helm. Pointing to what he describes as The Observer's "jaw-dropping downward spiral," Byers believes that not too many are keen on working for the paper at this juncture, rendering Spiers the result of a desperate, last-ditch effort for relevancy.
Byers also highlights – somewhat gleefully, if we're reading it correctly – the fact that Spiers has been something of a nomad across the media landscape. As evidence, Byers offers Spiers' own take on her itinerant ways:
"I'm kind of an opportunist in the respect that if a door opened, I would check it out and think about doing it," she once told The New York Times, putting a positive spin on a career in which she has seldom held a job for more than a year, and in which her professional relationships often come to abrupt and unhappy ends.
To further drive home the quixotic nature of her hire, Byers lists a number of anonymous, less-than-glowing reviews by Spiers' former co-workers – "extremely odd," "toxic," "one of the strangest people I've ever interacted with," "seriously odd—smart, nerdy, ironic, idiosyncratic, dark, mysterious," "makes tongue-tied look hip," goes "pillar to post…flotsam and jetsam…not quite nailing anything," has "the attention span and metabolism of a blogger, so she probably can't really do much else," "painfully fucking shy; she's painfully fucking arrogant"- painting Spiers as an awkward, high-strung, flaky individual who wouldn't hold the clout she currently does were it not for the fast-paced, walled-off, snarky nature of online writing today.
In the comments section for the AdWeek piece, Page Six columnist Paula Froelich points out that Wolff may not have be the most impartial editor. She writes:
This is appalling. That Ad Week would stoop so low as to publish something by Michael Wolff – who has long had a feud (and often been on the losing end) with Spiers – and is the worst gossip I know (Irony Alert! I used to deputy edit Page Six, which Spiers was NOT a tipster for, she was actually a freelance writer, regardless, gossip is very hard to write – and Wollf has never worked very hard at anything except to shellac his own name). This article is based in personal grudge slinging, not fact. Spiers has been very successful in creating companies, and helping companies flourish. Just ask Conde Nast, b5 media, her original colleagues at Deadhorse, which, if she had stayed on (and adhered to her original proposal instead of backtracking) would have sold for millions. Shame on you Ad Week.
When it was brought to Froelich's attention that Wolff wasn't actually the piece's author, she responded by painting the peripatetic nature of Spiers' career in a different light:
well, then I feel sorry for you. MW has never been adept at much except for promoting himself. As for the article, I can continue to poke many holes.. including the fact that Spiers hired Choire, and groomed him for the takeover of Gawker before she left, how is that not creating the tone? and short lived job stints? She created companies, then left to own/run her own… because shes an entrepreneur. thats what they do. And considering she is very adept at finding and nurturing new talent – exactly what the Observer was known for. And sadly, what Ad Week is clearly not under MW.
Ouch.
Spiers alluded the article on her Tumblr blog by posting Wolff's Tweet on her Tumblr in advance of the AdWeek piece. "My old friend @espiers doesn't fair too well in Adweek story posting soon…alas…," he wrote. [Ed. note: I had previously linked to Spiers' Tumblr post about a different AdWeek piece – also by Byers, also about troubles at The Observer – in which she quotes fellow Gawker vet Doree Shafrir's thoughts on rumors of bad feeling among Observerites. You can read that post here, if you like your media news extra meta.)
Wolff has responded to the controversy, telling New York's Daily Intel that Byers' piece was meticulously researched and that "I have been on occasional lunching terms with Elizabeth Spiers — friendly terms, as far as I've known — and don't know Kushner or Barnes at all … Her enmity is misplaced." Daily Intel might also be, however inadvertently, be lending credence to Byers' and/or Wolff's hesitation over the hire by offering this amusement little tidbit:
In the meantime, we hear Spiers is trying to make it more amusing on the basic style level. All writers have been asked to rewrite a New York Times article in "the Observer house style" by Friday. It's been a few years since former editor Peter Kaplan steered the paper's prose into the chatty, arch tone for which the paper became famous, so we hear no one there now has a clue what she's talking about.
What's particularly awkward about tiffs of this sort among those in media is that everyone is constantly rubbing shoulders and writing about one another – it's a small, small, incestuous world after all – while others, mostly those also inside that little media bubble, look in. Or gawk, as it were. It behooves those involved to care to an impassioned, maddening degree because it helps draw in eyeballs and attention – now Wolff's name is nearly inextricably tied to Spiers' and, as her success either grows or wanes, his reaction will be sought. Likewise, if Wolff makes a move (a misstep, specifically), attention will shift to The Observer to see whether and how it will weigh in.
There's a method to this madness. And is it ever fun to watch.
Have a tip we should know? [email protected]