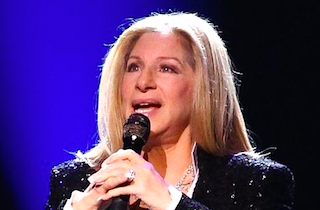 For the second time today, an interview with The New York Times has exposed what appears to be a decades-old instance of celebrity homophobia. First, in a TimesTalks discussion, John Cameron Mitchell revealed how David Letterman refused to shake his hand after a performance of Hedwig and Angry Inch more than 15 years ago. Now, playwright Larry Kramer is charging Barbara Streisand with saying she finds gay sex "distasteful."
Kramer has been trying to get his play The Normal Heart made into a movie since it first appeared Off-Broadway in 1985. The story of one activist's fight during the rise of the HIV/AIDS crisis will finally make its film debut this Sunday in an HBO production starring Mark Ruffalo, Julia Roberts and others.
Streisand initially bought the film rights for the play all the way back in 1986, but struggled to get the financing the actually produce it. Eventually, Ryan Murphy, the creator of Glee and American Horror Story, purchased the rights and produced the HBO version.
In a new interview with the Times' Patrick Healy, Kramer reveals that Streisand found some of the subject matter in the story uncomfortable, despite her role as an icon in the gay community.
"I said, 'I really think it's important that after eons of watching men and women make love in the movies, it's time to see two men do so,'" Kramer told Healy. "I bought her a book of very beautiful art pictures of two men making love, and she found it very distasteful."
In a statement responding to Kramer's charge, Streisand said she decided to option the play "to promote the idea of everyone's right to love. Gay or straight!"
"Larry was at the forefront of this battle and, God love him, he's still fighting," she said. "But there's no need to fight me by misrepresenting my feelings. As a filmmaker, I have always looked for new and exciting ways to do love scenes, whether they're about heterosexuals or homosexuals. It's a matter of taste, not gender."
Unlike Streisand, Murphy decided to use his own money to finance the film, something Kramer said "shows how much he wanted to do this, and how tacky it sort of is that Barbra never would think of something like that."
Read the full article, which will appear in this Sunday's Arts & Leisure section of the paper at nytimes.com.
And watch a trailer for The Normal Heart below, via HBO:
[Photo via WENN.com]
— —
>> Follow Matt Wilstein (@TheMattWilstein) on Twitter
Have a tip we should know? tips@mediaite.com