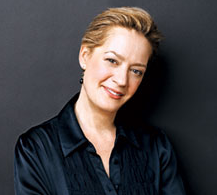 New York Times television critic Alessandra Stanley's record of making errors is such that she makes for a very easy target. This time it is one of the subjects of Stanley's recent piece on the video essay "Poliwood" who is calling the error-prone writer out on her inaccuracies. Namely, Hollywood director Barry Levinson who is blogging over at HuffPo about her latest outrageous column.
Levinson is quick to point out that filmmakers are never supposed to take their critics to task for unfavorable reviews but that he is "compelled" to respond this time: "I am going to criticize Alessandra Stanley, the TV critic for the New York Times. I am not going to criticize her on the basis of what she may not like about my recent film essay Poliwood, but I am going to take her to task for her blatant inaccuracies."
In this case, Stanley's inaccuracies, according to Levinson, begin with an earlier critique of a Walter Cronkite documentary (which Levinson was not involved with) which made it sound as though Cronkite was the only broadcaster on TV during the JFK assassination (he was one of three). Says Levinson: "To defend her thesis she had to carefully eliminate two networks from history — and two chairs. Yet this is what Ms. Stanley does: she alters reality to fit her thesis."
On to Levinson's own Poliwood, a documentary about "the intersection of politics, media, and entertainment." Levinson feels strongly that Stanley missed the point of the piece entirely.
"In politics, the only thing worse than no access, is too much access." She goes on to say, "At its core the film is a screed about everything that was wrong with politics and media during the 2004 election, carried over and misapplied to the 2008 campaign."

For the record, the film essay has nothing to do with the 2008 campaign. That's why there is no footage of the candidates leading up to the conventions, and no footage of them campaigning on the road, leading up to the election.
Also, this:
At another point, Ms. Stanley goes on to state that my observations about the media were incorrect because the media did not determine the outcome of the 2008 election. Like her previous comment, the fact that Obama won was not the point of the piece. That's for other filmmakers to make. That's for other filmmakers to make. But, Poliwood does address the importance of telegenic (TV friendly) political figures, of which Obama is one of them. Is Ms. Stanley suggesting that Obama's attractive appearance, his ability as a great speaker, his youth and vibrancy, and his story of rising from poverty as shown on television had absolutely no effect on him becoming President of United States?
So yes, once again let us note that Stanley's history is such that she makes for an easy target in the fact-checking department. Of course, drawing conclusions and making suggestions is actually part of a critic's job and are quite different than glaring factual errors. And it does seem that in this case, Levinson is, in fact, "going to criticize her on the basis of what she may not like" because he is actually just pissed off he got a bad review in the New York Times.
Have a tip we should know? tips@mediaite.com