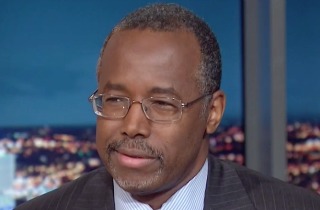 Fresh off his interview with CNN's New Day, in which he definitively declared homosexuality a choice, likely 2016 GOP primary candidate Dr. Ben Carson is blaming the media.
Earlier this morning, Carson told CNN host Chris Cuomo that being gay is "absolutely" a choice. His reasoning: "Because a lot of people who go into prison go into prison straight — and when they come out, they're gay. So, did something happen while they were in there?"

That scientifically and statistically questionable assertion went viral and has even some of the staunchest conservatives wondering what he was thinking.
But during a radio discussion this afternoon with Sean Hannity, Carson blamed the ordeal on CNN. "It was a 25 minute interview they chopped, and you see what part they emphasized," he said. "I did learn something very important: For certain networks, never do a pre-taped interview. Always do it live."
In the interview, flagged and cut down into a shorter clip by conservative site The Right Scoop, Hannity agreed with Carson that pre-taped interviews allow for quotes to be taken out context or reshuffled in order to cast them in a certain light.
Carson continued: "I simply have decided I'm not really going to talk about that issue anymore because every time I'm gaining momentum the liberal press says, 'Let's talk about gay rights.' And I'm just not going to fall for that anymore."
The problem with Carson's attempt to play victim here is that, during that sequence of the CNN interview, there were clearly no jump-cuts and no edits — just a straight back-and-forth about whether homosexuality is a choice. Playing this off with a "gotcha media vs. poor ol' Ben Carson" spin isn't exactly going to cut it. Sometimes your words are just your words.
UPDATE — 7:00 p.m. ET: Carson also issued a statement apologizing for his choice of words:
In a statement, Carson said he "realized that my choice of language does not reflect fully my heart on gay issues."

"I do not pretend to know how every individual came to their sexual orientation. I regret that my words to express that concept were hurtful and divisive. For that I apologize unreservedly to all that were offended," he added.
Listen to the audio below:
— —
>> Follow Andrew Kirell (@AndrewKirell) on Twitter
Have a tip we should know? tips@mediaite.com