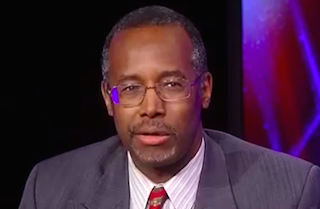 With an unprecedented number of Republican candidates entering the 2016 presidential race on a seemingly daily basis, Fox News and CNN have announced that they will be limiting their respective debates to the top 10 finishers according to an average of recent polls (with CNN allowing all candidates above 1% to participate in at least part of the proceedings).
According to analyses done by a number of sites Bobby Jindal, Lindesy Graham and Carly Fiorina would each be left out of the Fox debate if it were held today, with Rick Santorum and John Kasich hovering on the bubble.
One candidate who safely falls within the top 10 in nearly every single poll is Ben Carson, who offered up his reaction to the debate rules in a letter to supporters on Friday.
"I am very worried that out of broadcasting convenience our party is about to exclude voices from our debate programs that are critical to making our party bigger, better, and bolder," Carson wrote. "The rules may be good for me personally, but they are not good for the process."
"This type of rule has been used to keep 'fringe' candidates off the stage," he added. "None of these men and women deserves this exclusion."
Perhaps Carson is concerned that by the time the first debate rolls around in August, he fortunes will have changed and someone currently sitting at the bottom of the list will have taken his place in the top 10.
In a statement released on Thursday, Santorum called the rules "arbitrary," saying, "If you're a United States senator, if you're a governor, if you're a woman who ran a Fortune 500 company, and you're running a legitimate campaign for president, then you should have a right to be on stage with everybody else."
[Photo via screengrab]
— —
>> Follow Matt Wilstein (@TheMattWilstein) on Twitter
Have a tip we should know? tips@mediaite.com