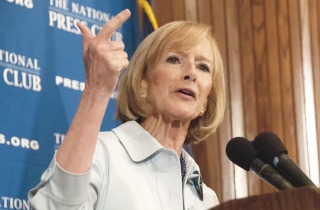 Amid the ongoing controversy about George Stephanopoulos, it was revealed that PBS NewsHour co-anchor Judy Woodruff gave $250 to the Clinton Foundation in 2010. The foundation set up a Haiti relief fund after the devastating earthquake, and Woodruff made the one-time donation.
After this was pointed out last week, Woodruff briefly addressed it on the air and moved on. Other than that, though, NewsHour did not devote any coverage to the Stephanopoulos scandal.
Both of those things caught the eye of PBS ombudsman Michael Getler, who wrote yesterday that what Stephanopoulos did was really bad, and NewsHour was wrong "not to cover… a pretty big news story about the news media."
As for the $250 she gave, Getler didn't doubt Woodruff's impartiality or journalistic bona fides, but did say, "There are lots of ways to contribute to Haitian earthquake relief. So the choice of the Clinton Foundation, even in a small amount and with the best of intentions, was a mistake in my book."
Woodruff ended up responding to Getler's post, which he posted on his website:
I'm a longtime admirer of your work, as a journalist and as ombudsman, but what you wrote was unfair. To lump what I did in 2010 under the simple heading of "Clinton" ignores the facts and the context. I gave $250 two days after the Haiti earthquake struck in 2010, to an emergency relief fund, and in response to one of the first appeals to cross my desk when we were witnessing wall-to-wall scenes of death and devastation. I am a journalist, but I also am a citizen who supports non-partisan, charitable causes when I feel so moved.

I will not be put in a position of defending the Clinton Foundation. But in early January 2010, less than one year into President Obama's first term, while Hillary Clinton was Secretary of State, the tragedy hit and we were told by relief experts that the quickest way to get a contribution to the victims, was through the William J. Clinton Foundation. It had a longstanding involvement in Haiti before the quake. To repeat, my gift was made out to the Haiti Relief Fund, not the general Clinton Foundation.
NewsHour executive producer Sara Just also responded, defending Woodruff and saying, "To suggest that we ignored the Stephanopoulos story because of some conspiracy about Judy's generous and spontaneous response to a humanitarian crisis is simply insulting to the journalistic integrity we display nightly."
[h/t Poynter]
[image via Albert H. Teich/Shutterstock]
— —
Follow Josh Feldman on Twitter: @feldmaniac
Have a tip we should know? tips@mediaite.com
Josh Feldman - Senior Editor