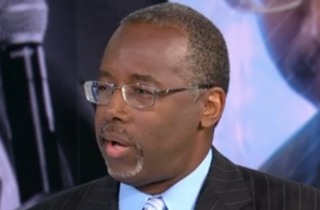 Dr. Ben Carson's literary agent recently apologized for the neurosurgeon's apparent plagiarism from a website called SocialismSucks.net, but explained that it was purely unintentional.
"We know for certain that Dr. or Mrs. Carson had no intent to plagiarize," agent Sealey Yates told The Daily Caller in an interview. "That was not what they were trying to do."
The plagiarized sections of America the Beautiful: Rediscovering What Made This Nation Great were recently discovered by BuzzFeed, in which they found multiple incidents where Carson pulled passages from different sources such as the now-defunct SocialismSucks.net, The Five Thousand Year Leap by W. Cleon Skousen, and at least five other places.
While Yates acknowledged the plagiarism, he explained it by saying the Carsons had done some sort of due diligence:
"The Carsons, in writing this book, did everything that they thought they were supposed to do to provide the source material for their book," Yates said. "And both in terms of footnoting, providing attribution, as best they could. They delivered a completed manuscript to the publisher and they then relied on the editorial staff, which every author does."

Added Yates: "The fact is we don't know exactly what happened, because we haven't had time to properly and adequately evaluate what happened once the manuscript was delivered to the publisher."

"But in fairness to the publisher and everybody else, we're trying to take the time to figure out historically and accurately what happened," he said.
Dr. Carson himself had no comment, wanting to wait before making any book-related decisions, Yates said. "They need to, however, have the time to evaluate, to have the publisher work with them to figure out what happened and then determine if there were errors or mistakes made [and then] make corrections as necessary to fully do the right thing," he added.
[The Daily Caller]
[Image via screenshot]
—
>> Follow Tina Nguyen (@Tina_Nguyen) on Twitter
Have a tip we should know? tips@mediaite.com