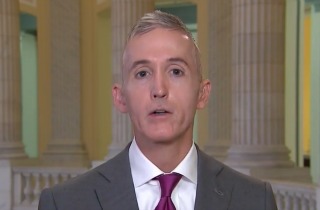 The House Select Committee on Benghazi on Sunday fired back at a former staffer who alleges that the panel is running a "partisan investigation" targeting Democratic presidential frontrunner Hillary Clinton. The committee's chairman claims the ex-employee was actually reprimanded for focusing too heavily on Clinton and for mishandling classified information.
Rep. Trey Gowdy (R-S.C.) said Bradley Podliska did not mention Clinton in his formal complaint after he was fired, and never provided evidence to prove that he was instructed to focus on Clinton. Instead, Gowdy said, Podliska "specifically claimed his [Air Force] reserve status as a basis for his termination," noting that the committee granted leaves of absence when Podliska requested them.
"Because I do not know him, and cannot recall ever speaking to him, I can say for certain he was never instructed by me to focus on Clinton, nor would he be a credible person to speak on my behalf," Gowdy said in a statement obtained by Mediaite Sunday morning. "…In fact, when this staffer requested interns do a project that focused on Clinton and the National Security Council, he was informed by the committee's deputy staff director his project was 'not approved.'"
Podliska, speaking to CNN on Sunday morning, said the investigation into the 2012 terrorist attack in Benghazi, Libya, which resulted in the deaths of four Americans, began as a true fact-finding mission, but devolved into a Clinton-focused probe after it was revealed in March that the former secretary of state exclusively used a private email server during her tenure as the nation's top diplomat. But despite these criticisms of the committee's investigation, Podliska said Clinton still "has a lot of explaining to do" about the State Department's response to the attack.
"I knew that we needed to get to the truth for the victims' families," said Podliska, a self-identified conservative Republican. "And the victims' families, they deserve the truth — whether or not Hillary Clinton was involved, whether or not other individuals were involved."
In his statement, Gowdy also blasted CNN, claiming the network did not contact the committee before publishing false allegations.
"Had CNN contacted the committee regarding its interview with this staffer before it rushed to air his sensationalistic and fabulist claims, it could have fully questioned him about his unsubstantiated claims," Gowdy said. "But that is the difference between journalism as practiced by CNN, and the fact-centric investigation being conducted by this committee."
CNN did not immediately respond to a request for comment on Gowdy's criticism of its reporting.
The panel has been the subject of intense scrutiny in recent weeks following House Majority Leader Kevin McCarthy's (R-CA) comments connecting the committee's investigation to Clinton's falling poll numbers. McCarthy has said it was never his intention to suggest that the committee's work was political in nature, but he dropped out of the race for Speaker of the House last week, seemingly in part due to the political fallout of his controversial remarks. The California Republican was considered the overwhelming favorite to win the job, which will be vacated when John Boehner leaves Congress at the end of the month.
In direct response to McCarthy's statements, Democrats on the committee pledged to release interview transcripts of various witness testimonies, including that of Clinton's former Chief of Staff Cheryl Mills. Republicans denounced the move as an "improper release" of information that could compromise the integrity of the investigation, and said they plan to disclose new emails showing Clinton's reliance on a former confidante with business interests in Libya for unverified intelligence information about that country in the aftermath of its civil war.
"This committee always has been, and will be, focused on the four brave Americans we lost in Benghazi and providing the final, definitive accounting of the Benghazi terrorist attacks for the American people," Gowdy said.
Clinton is set to testify in front of the committee on Oct. 22. Democrats attempted to shut down the committee last week, but the measure failed on a party-line vote.
[Image via screengrab]
— —
>>Follow Andrew Desiderio (@desiderioDC) on Twitter
Have a tip we should know? tips@mediaite.com