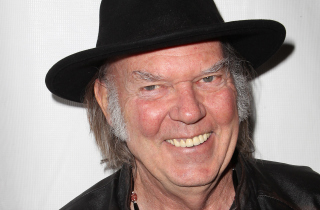 There is an undeniable feeling of schadenfreude among liberals when a right-wing political candidate uses a song for their campaign that was written by an artist who would never, ever in a million years support said candidate. So it should have come as no surprise that Neil Young was less than thrilled that newly-minted Republican presidential candidate Donald Trump used his classic "Rockin' in the Free World" when making his announcement last week.
But while Young's manager was extremely diplomatic in saying that his client supports Democratic candidate Bernie Sanders, imagine the utter glee of liberals when they find out that the Sanders campaign is now using the very same song, either for humor purposes or because Young's words galvanized the senator to lay claim to the rocker's music. Either way, that's what just happened.
Young can't vote in the 2016 election as it is because he's Canadian. But that doesn't mean he can't support a candidate, and what better way to do that than to lend a very famous, recognizable song about income equality to a liberal candidate? Just this weekend, Sanders walked out to "Rockin' in the Free World" at an event in Denver (at the 5:00 mark):
Trump's camp claims to have paid to use the song, but they'll stop using it "out of respect" for Young. But it would make sense, considering that the song is about everything Trump is basically against as a human being.
Lesson learned: hippies generally support hippies.
[h/t Consequence of Sound]
[Image via Shutterstock.com]
Have a tip we should know? tips@mediaite.com