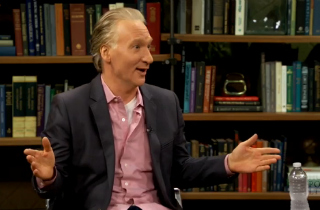 Appearing this week on the brand-new HuffPost Live, HBO's Real Time host Bill Maher made casual swipes at Republican VP candidate Paul Ryan, but reserved some surprisingly harsh words for President Obama over his administration's drug policy.
While discussing with host Jacob Soboroff the Los Angeles City Council's recent ban on medical marijuana dispensaries, Maher joked, "I always find that you get higher if you buy from a dealer… If you have to put with that awkward 20-minute conversation with the guy in his dingy apartment, and his skanky girlfriend comes in, I just think when you get the pot home you like it better and get higher. Getting it at a dispensary is too easy."
"No, of course, it's ridiculous," Maher then turned serious, offering harsh words for the president: "This is one area where Obama has been such a dismal failure and a liar." Many marijuana advocates have taken issue with the president's policies because of his past support for decriminalization and subsequent abandonment of the position once elected president; and because his administration has seemingly ramped up the prosecution of local medical marijuana dispensaries regardless of state laws that permit for such establishments.
– RELATED: Why Won't President Obama Support Our Right To 'Choom' A Doobie Like He Did?
Soboroff then pointed out Obama's seeming reluctance to answer popular questions about marijuana laws, which Maher agreed is a disappointment but cut the president some slack: "We all understand why the first black president couldn't get into the White House and immediately go, 'Hey, let's spark it up.'"
– RELATED: Maher: Ryan Is 'Smartest Guy In The Party,' Palin Is 'Stupidest Woman On Earth, But They Agree On Everything'
"I'm hopeful in the second term, when he has nothing to fear in the future," Maher continued, "that he can be honest about this issue the way he finally became honest about gay marriage."
"My hope is," he concluded, "that in the first year he's going to admit, 'Yes, pot should be legal.'"
Watch below, via HuffPost Live:
— —
>> Follow Andrew Kirell (@AndrewKirell) on Twitter
Have a tip we should know? tips@mediaite.com