Bill & Melinda Gates Foundation To Give ABC News $1.5 Million For Global Health Series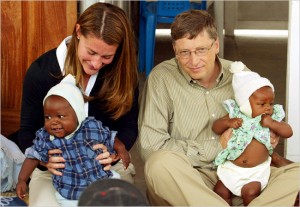 The Bill & Melinda Gates Foundation (a charitable organization started by two people whose names escape me) is helping fund a year long series for ABC News. The expensive series, entitled "Be the Change: Save a Life," will take viewers all around the world and focus "on the diseases and health conditions that disproportionately afflict the world's poorest people."
From ABC News:
"ABC News will invest more than $4.5 million in the series, covering personnel and production. The Bill & Melinda Gates Foundation is giving a $1.5 million grant that will specifically help fund overseas travel and foreign production costs. As with all reporting and sponsorships, ABC News has complete editorial control over the content of the series.

'We are, as always, committed to in-depth reporting on the global issues that matter to our audience — and health is a topic that touches every human being in the world,' said ABC News President David Westin. 'Support from the Gates Foundation will help us, literally, go that extra mile; we can cover the stories that ABC News is passionate about, stories that will connect our American audience with the struggles and solutions of families and doctors all over the planet, from Africa to South America to Asia. And, even more important, we can offer people the opportunity to get involved and truly save a life.'"
This isn't the only way the Foundation is working to help cure diseases of the world. The organization will be giving $60 billion towards health and education. Last week, during an episode of 60 Minutes, Bill and Melinda (oh, that's their names) announced the donations, citing that it would specifically be going towards helping countries riddled with diseases like malaria. Gosh, some people would have been happy if they just foot the bill for Diane Sawyer's plane tickets, but it looks like these folks are going to go the extra mile.
(h/t Poynter)
Have a tip we should know? tips@mediaite.com