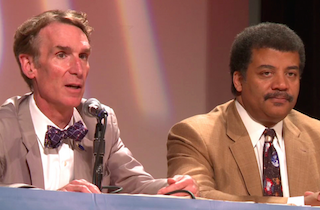 Bill Nye "the Science Guy" joined his friend, astrophysicist Neil deGrasse Tyson for a recent episode of the StarTalk Radio podcast and at the tail end of a conversation that covered the year in "pseudoscience," they arrived at recent statements by Pope Francis I about evolution and the Big Bang Theory.
During an October address to the Pontifical Academy of Sciences, the Pope said that God is "not a magician with a magic wand." In a rebuke to many evangelical Christians in this country he said, "The Big Bang, that today is considered to be the origin of the world, does not contradict the creative intervention of God; on the contrary, it requires it. Evolution in nature is not in contrast with the notion of [divine] creation because evolution requires the creation of the beings that evolve."
RELATED: Neil deGrasse Tyson Had A Controversial Christmas After Celebrating Isaac Newton's Birthday
"Do we write you a check Catholic Church?" Nye joked. "Thank you! You have now joined the last two centuries, welcome aboard!"
As Tyson explained, Catholics have actually long accepted evolution and the Big Bang Theory was first recorded by a Belgian priest, so Pope Francis was really just adding "punctuation" to those original sentiments.
RELATED: Neil deGrasse Tyson Explains the End of Interstellar in Case You Didn't Understand It
But it was this follow-up from "I Fucking Love Science" blogger Elise Andrew that really brought things home: "I don't know, I find it really bizarre, anyway. It kind of cracks me up anyway. I mean, American evangelists, when the Pope thinks you're taking the Bible too seriously, it might be time to rethink your life choices… I mean, he's the Pope. When he thinks you're taking this whole religion thing too seriously? Just take a step back and take a look at yourself."
Listen to the full podcast audio below (Pope talk starts at about 51:45):
— —
>> Follow Matt Wilstein (@TheMattWilstein) on Twitter
Have a tip we should know? tips@mediaite.com