Bill O'Reilly Doesn't Share Bernie Goldberg's Mocking Outrage Over AttackWatch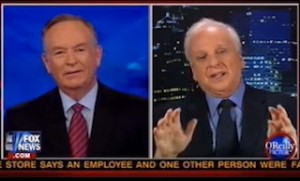 Fox News media analyst Bernie Goldberg appeared on The O'Reilly Factor last night and predictably ridiculed AttackWatch, the website recently launched by the Obama campaign designed to "get the facts, fight the smears." While host Bill O'Reilly was somewhat dismissive of the campaign marketing effort, he didn't exactly share Goldberg's level of outrage and mockery, correctly observing that the hotly debated website was a basic marketing effort.
First, some background: Last week, the Obama reelection campaign launched AttackWatch, a controversial, scary-looking website that builds a database of curious visitors, and collects user-generated content designed to report on unfair smears or falsehoods spread by Obama detractors. Right-of-center media pundits (particularly online) have derided the effort — calling it a "laughingstock" — while Obama's campaign has called it a success, having built a database of 100,000 subscribers in it's first day.
Goldberg's method for criticizing the site was to envision O'Reilly setting up a similar site for his detractors, to report on similar critiques. To suggest that an opinion media cable host — arguably the most influential of the lot — is in anyway similar to a political campaign to reelect the president reveals both Goldberg's short-sightedness, and his willingness to fluff his pal, who consistently has him on-air, regardless of whether he shares any new ideas or not.
While O'Reilly seemed to show some disregard for AttackWatch, claiming it "doesn't exude confidence…this exudes weakness," he also seemed to understand what many critics have missed. It's a marketing tool designed to build a database of interested users, a list of engaged by the campaign for financial donations, volunteering, etc. And while it may have merited some mockery from Obama's detractors (case in point Goldberg), that's a segment of the market that seems to be willing to mock this administration regardless of what they do, and which wasn't going to donate, anyway.
O'Reilly's seeming shrug of AttackWatch's critics seems to be a more interesting and meaningful moment that the critiques themselves. This is a great example of how O'Reilly's non-doctrinaire approach makes him so influential.
Watch the segment below, courtesy of Fox News:
Have a tip we should know? tips@mediaite.com