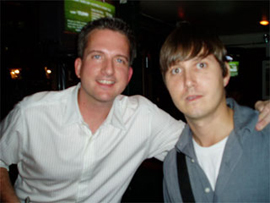 ESPN sportswriter Bill Simmons saw his latest, The Book of Basketball, top the bestsellers list this week for hardcover nonfiction, leaving millions of sports obsessives almost unreasonably proud of one of their own. Even some cynical bloggers are along for the ride, as evidenced by today's Will Leitch-penned love letter "Bill Simmons, Establishment," on Deadspin. It's touching, in a Judd Apatow sort of way. But it's also an insightful take on bloggers going mainstream, a subject we've touched on before.
Obviously a Simmons follower from the beginning, Leitch remembers reading his first Simmons column in a doctor's office in May of 2001 and describes watching the premiere of The Jimmy Kimmel Show just because Simmons was a low-level writer. "I couldn't believe someone was getting away with this," Leitch writes, echoing the sentiments of so many readers online, discovering a blogger like one might've discovered the pugnacious Norman Mailer mid-century. "We felt like we knew him."
"Everyone writes like that now," Leitch admits. "But not in 2001." And that's the thing! Simmons succeeding on such a big stage is reassuring, both to those who came of age with blogging and those plugging away at it now. "Our voice is accepted!" they think. Leitch expounds:
What Simmons was doing was so different from what anyone else was doing that it didn't even seem to be the same medium. They were letting him do this? … Other sportswriters hated Simmons immediately, ostensibly because of those tired Doesn't Sit In The Press Box arguments, but mostly because he was connecting with people, he was proving that the empty Verse Chorus Verse of the inverted pyramid and Fire The Manager! wasn't going to cut it anymore. Simmons was talking about sports the way people actually talked about sports.
Then, he nails it: "He gave hope for a lot of people … that maybe the landscape for this shit, maybe it existed." Now, of course, Simmons is the Establishment and that's a hard realization. It makes him easy to hate, but Leitch concedes: "Simmons did something incredibly rare, particularly in our fractured, niche media world: He made the culture come to him."
Have a tip we should know? tips@mediaite.com