'Blowhards Chronicling Blowhards': Mediaite's Andrew Kirell And Noah Rothman Talk With ReasonTV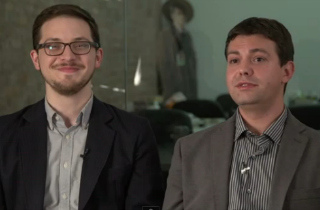 Reason magazine's video outpost ReasonTV interviewed our very own editors Andrew Kirell and Noah Rothman to discuss how Mediaite has grown in the face of an ever-changing media landscape, whether "objectivity" truly exists, and whether "parasitic" journalism is worth embracing.
Correspondent Kennedy (whom you may recall from her days as an MTV VJ) asked at the outset, "What the hell is Mediaite?"
"It's the intersection of politics and media. Or a chronicle of blowhards," Kirell answered. "Blowhards chronicling blowhards is a good way to put it."
Kennedy then asked why Mediaite has grown substantially over the last three years, while other sites seem to be "floundering." Rothman posited that our website has succeeded because "we package content in very small packages for the people who don't want to sit in front of their television all day." In addition, he noted that Mediaite has a diverse batch of opinionated writers who attract people to debate each other within the site (here's lookin' at you, loyal commenters).
Kirell later said that "We're taking down the old media, the ivory tower media, the stuffy old journalism that had a lot of rules." As opposed to the old journalism outlets that operate under "a pretense of objectivity," Kirell said that Mediaite's writers are open about their political ideologies — Kirell is libertarian, Rothman is conservative, Tommy Christopher is liberal, etc. — and so you know exactly what you are getting when you click into a straight news report.
"Objectivity is dead and we should get over that," Kirell added.
As is the spirit of Mediaite, Rothman took exception, saying that "there is always going to be a market for legacy media. There's always going to be a market for real reporting, straight journalism that days, even months, and real sourcing. And that has to be objective to a certain sense."
Asked to address criticism that new media sites like Mediaite are "parasitic" on cable news outlets, Rothman suggested that "there's always going to be a market" for sites that packages media content into digestible bites. Kirell went even further, adding that "If God were to reach his hand down to earth and unplug cable news … would we die out? I don't think so."
"Chris Matthews and Sean Hannity will always find an outlet. So it'll just be the web. Chris Matthews will find a computer and bang on it a little bit and try to figure out how to work it and try to get on TV, but it'll be on the web," Kirell joked.
As for whether cable news depends on Mediaite, Rothman said it's not always the case for the bigger outlets, but they benefit from our coverage and we all have a need to work together in some ways.
Check out the interview below from ReasonTV:
H/T: Reason
Have a tip we should know? tips@mediaite.com