Bombshell Reports Reveal Why Rep. Trent Franks Announced His Resignation So Abruptly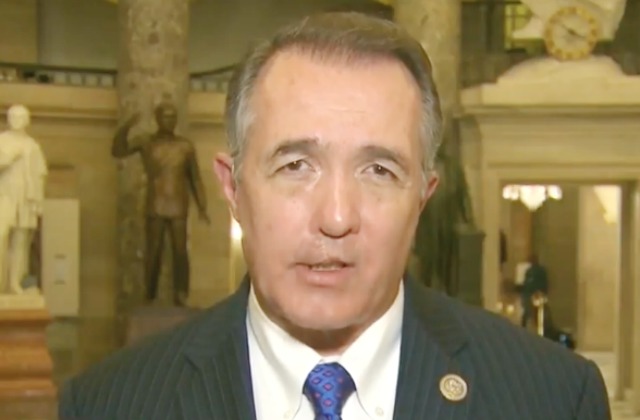 Well, we all knew it was coming. The news that GOP Rep. Trent Franks has resigned does not surprise anybody. He has been accused of approaching female staffers and asking them to act as a surrogate in order to help the family give birth to a child, after all.
What we didn't know, however, is when Franks would retire. Sen. Al Franken is stalling until the end of the year, remember, and Franks announced he was going to do something similar.
He didn't. He has resigned, effective immediately, as in by the time you are reading this, he is already sadly walking out of the office, box of stuff in hand.
The statement he gave regarding the resignation, however, has some people puzzled. He didn't, for instance, even mention the allegations that have been swirling around the Arizona Republican. The timing, he wrote, was due to the fact that his wife was just admitted to a hospital.
"Last night, my wife was admitted to the hospital in Washington, D.C. due to an ongoing ailment," he wrote. "After discussing options with my family, we came to the conclusion that the best thing for our family now would be for me to tender my previous resignation effective today, December 8th, 2017."
The resignation comes just one day after announcing he would step aside, and just before a bombshell report was published by Politico, alleging that, in addition to broaching surrogacy, he propositioned female aides about surrogacy, and they were apparently "concerned that Franks was asking to have sexual relations with them," though as the report notes, "It was not clear to the women whether he was asking about impregnating the women through sexual intercourse or in vitro fertilization."
The request of sexual intercourse was not broached in the statement Franks released yesterday, in which he first admitted that he was going to resign.
"Due to my familiarity and experience with the process of surrogacy, I clearly became insensitive as to how the discussion of such an intensely personal topic might affect others," he wrote in a statement, suggesting yesterday that the resignation would occur on January 31, 2018.
"I have recently learned that the Ethics Committee is reviewing an inquiry regarding my discussion of surrogacy with two previous female subordinates, making each feel uncomfortable. I deeply regret that my discussion of this option and process in the workplace caused distress."
AP has also reported that he allegedly offered a female staffer $5 million to carry their child:
[image via screenshot]
—
Follow Lawrence Bonk (@sidescrollers) on Twitter
Have a tip we should know? tips@mediaite.com