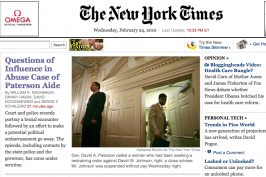 Wow. Well Gov. David Paterson may be starting to wish that the New York Times had simply published a bombshell story about him as opposed to the three increasingly questionable stories that have hit the front page of the paper over the course of the last eight days. The accumulative effect of all these pieces may end up being far more damaging than one quick snap to the gut might have been. Time to stop apologizing?
Today's piece, which ain't pretty, once again focuses on Paterson's shady aide David W. Johnson (subject of last Wednesday's A-1 doozy) and whether or not Paterson personally intervened, or encouraged the State police to do so, to keep her from appearing in court to testify that she'd been violently assaulted by Johnson.
In the ensuing months, she returned to court twice to press her case, complaining that the State Police had been harassing her to drop it. The State Police, which had no jurisdiction in the matter, confirmed that the woman was visited by a member of the governor's personal security detail.

Then, just before she was due to return to court to seek a final protective order, the woman got a phone call from the governor, according to her lawyer. She failed to appear for her next hearing on Feb. 8, and as a result her case was dismissed.

Many details of the governor's role in this episode are unclear, but the accounts presented in court and police records and interviews with the woman's lawyer and others portray a brutal encounter, a frightened woman and an effort to make a potential political embarrassment go away.
Last night, according to the NYT, Johnson was suspended without pay and Paterson announced that he would ask state Attorney General Andrew M. Cuomo to "investigate his administration's handling of the matter." Which has got to be a particularly bitter pill for Paterson to swallow seeing as many people consider Cuomo to be the favorite in the upcoming race for Paterson's seat.
The story after this point gets increasingly sketchy, in the what happens north of Bear Mountain stays there sense. The state police may have used intimidating tactics, Johnson apparently tried to avoid ever being served with court papers, this woman was not the only woman who had complained of being abused by Johnson, etc. In all this Paterson's role remains elusive (apparently the NYT pulled back at bit overnight). However at the rate these stories are coming once imagines that may not be the case for long.
Questions of Influence in Abuse Case of Paterson Aide [NYT]
Have a tip we should know? tips@mediaite.com