"Bondage" And More: Top Ten Jokes About Michael Steele And The RNC This Week
This week, Michael Steele and the Republican National Committee showed the world that they weren't a party of lame, old men. Late night hosts (and liberal newscasters) had a lot of material – from "bondage-themed nightclubs" to "lesbian sex" to a viral video mash-up.
Here are this week's top 10 jokes about the RNC, Steele…and Voyeur.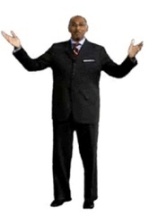 #10
"If (the Republicans) can't spend donor money at a sex club, the terrorists win."
#9
"Sex scandals are nothing new for a Republican Party, that reports, when it's daylight, to place family values above all others, but it is still not every day that the Republican National Committee is caught using party funds to reimburse a political official for the four figure tab he rang up at a lesbian and bondage themed night club in West Hollywood. Waiter, this steak tastes like leather."
#8
"I like that name Michael Steele. Doesn't it sound like he would be a dancer at a bondage themed night club?"
Jay Leno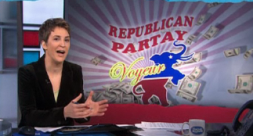 #7
"At least in recent years, the Republican Party has been way more libertarian in their choice of fund raising venues than they have been in their policy positions."
#6
"The Republican National Committee had a big party at some kind of a sex club in Los Angeles. They spent $2,000 of campaign donation money on the bill at the sex club in Los Angeles. But the guy who organized the big Republican sex party apologized on the Golf Channel, so that's good."
>>> NEXT PAGE: Airport bathrooms, Young Eagles, XXX-Tremists…
Have a tip we should know? [email protected]