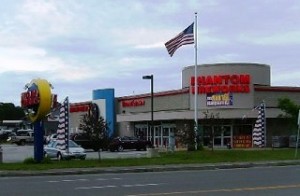 Massachusetts has tough laws against fireworks, but that didn't stop now-deceased Boston Marathon bombing suspect Tamerlan Tsarnaev from acquiring them, possibly in an early attempt to construct a bomb for use in his coming reign of terror. According to Phantom Fireworks Vice President William Weimer, Tsarnaev simply drove an hour north, to New Hampshire, to obtain fireworks containing about a pound and a half of gun powder. Massachusetts has relatively tough gun laws, too, but Tsarnaev could have easily skirted them, on that same trip, to purchase the guns he and his brother used to kill one policeman and wound another during the post-bombing manhunt.
Phantom's records show Tsarnaev made the purchase on Feb. 6 of this year. From The Los Angeles Times' Seema Mehta:
Tamerlan Tsarnaev paid $199 cash for two "lock and load" kits, each of which contained four tubes and 24 shells, said William Weimer, vice president of Phantom Fireworks. Such kits cannot be legally sold in some states, including Massachusetts and California.

…Each shell is loaded with two forms of powder, he said: a black powder, which is the explosive ingredient that causes the shell to burst, and effect powder, which creates the colors and noise.

"The only thing that he could have done is he could have ripped all the shells apart and attempted to harvest the powder," he said.

Tsarnaev could have collected 1.5 pounds of powder at most, a tiny fraction of the amount he could have legally purchased elsewhere, Weimer said.

…"My assumption is he experimented with them and probably quickly came to the conclusion it wasn't going to do him much good," Weimer said.
The people of Massachusetts have decided, through their elected representatives, that they don't want the possession or sale of consumer fireworks to be legal in their state, perhaps because they would like to avoid incidents like this:
A 2-year-old boy and an 8-month-old girl remained hospitalized for burns Wednesday after a large supply of fireworks exploded during a Fourth of July celebration here, engulfing the back deck of a home in flames.

Eleven people, including five children, were injured in the blast, which according to a relative ignited when a wayward firework accidentally struck the main supply. The detonation shook the neighborhood Tuesday evening and sent a fireball high into the air, neighbors and relatives said.
Unfortunately, a minority of Massachusetts residents still send a lot of business New Hampshire's way, so even with fireworks illegal in the state, law-abiding Massachusans must still deal with the risks their neighbors take. According to Massachusetts State Fire Marshall Stephen Coan, during te ten-year period between 2001-2010, there were "774 major fires and explosions from fireworks causing one death, 10 civilian injuries, six fire service injuries and nearly $2.4 million in property loss."
Those with a libertarian impulse to let adults be as stupid as they want to be should keep in mind that those firemen, and the neighbors threatened by those fires, chose to live in a place where fireworks were illegal. Coan also points out that, during the same period, "the state's burn registry reported 43 people were treated at Massachusetts emergency rooms for severe burn injuries from fireworks – burns covering 5% or more of the body. Two-thirds, 65%, of these victims were people under the age of 18, and 23%, or nearly one-quarter were between 10 and 14 years old."
The problem is that Massachusetts stands nearly alone, with only Delaware, New York, and New Jersey, in banning fireworks outright, while four other states ban some fireworks. Here's what that looks like, according to the comfortingly-named AmericanPyro.com: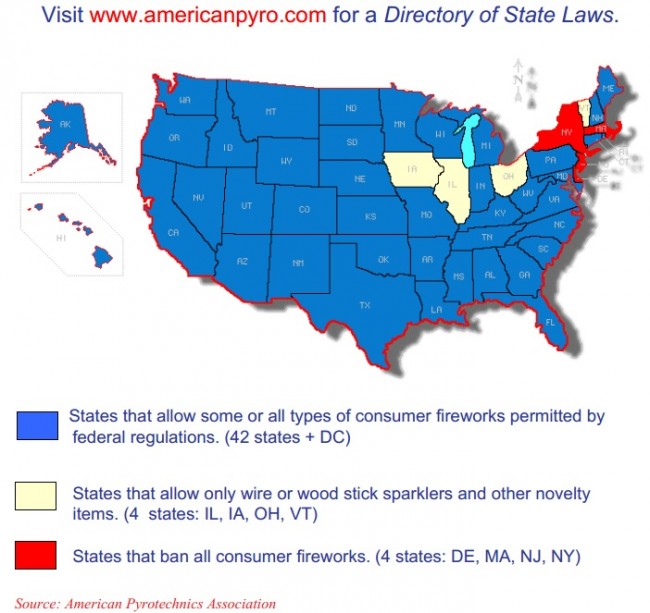 According to the Consumer Product Safety Commission, fireworks account for around 7,000 to 9,000 injuries, and an average of 7 deaths, per year, a tide which state laws like Massachusetts' are hard-pressed to stem. Yet the public safety risk that fireworks pose is dwarfed in comparison to that of firearms, which the Boston bombing suspects, or any criminal/terrorist/seriously mentally ill person can purchase legally by making the same short drive to New Hampshire, despite Massachusetts' relatively tough gun laws. The Brady Campaign ranks Massachusetts third in its national scorecard, and every one of the state's U.S. senators and U.S. House members has earned an "F" rating from the NRA, but they're bordered by two states with virtually non-existent gun laws. Whether the people of Massachusetts wanted it or not, the Boston bombing suspects were perfectly able to buy all the guns they wanted in New Hampshire, without a background check. As if it matters, time will tell if they did.
Have a tip we should know? tips@mediaite.com