Boston Bombing Suspect's Aunt: Local Mosque Refuses To Bury Tamerlan Tsarnaev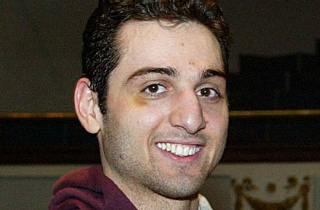 According to NBC News, deceased Boston bombing suspect Tamerlan Tsarnaev's aunt claimed that a local mosque has refused to hold a funeral or bury her nephew in light of what he and his younger brother have done.
Upon releasing Tsarnaev's body to his family members living in the United States, a local mosque in the Boston area reportedly refused burial and funeral services when approached by the suspected bombers' uncle. The aunt, Patimat Suleimanova, indicated to NBC News that it was a mosque the family has attended in the past.
Earlier this week, it was reported that a mosque in Cambridge, Mass., had threatened to kick the late Tsarnaev out of its membership for his occasionally disruptive behavior. Members of that congregation have reportedly been questioned by the Federal Bureau of Investigations.
It seems as though many local Muslims are wary of being associated with the violent actions of the Tsarnaev brothers. A representative of the Islamic Institute of Boston told Huffington Post that "I would not be willing to do a funeral for him. This is a person who deliberately killed people."
"There is no room for him as a Muslim," he added.
Other local Muslim groups have indicated that they've yet to be contacted for burial requests. Imam Suhaib Webb of the Islamic Society of Boston Cultural Center told HuffPost he's yet to receive a request, but that "I don't think I could ethically lead a prayer for him, but I would not stop people from praying upon him."
— —
>> Follow Andrew Kirell (@AndrewKirell) on Twitter
Have a tip we should know? tips@mediaite.com