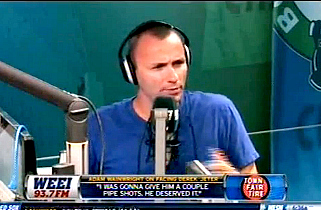 (UPDATE BELOW)Dennis and Callahan Morning Show cohost Kirk Minihane had some words for Erin Andrews Wednesday morning following her conversation with Cardinals pitcher Adam Wainwright during last night's All Star Game, in which the ballplayer clarified that he did not, in fact, throw retiring Yankees star Derek "Michael" Jeter easy pitches.

Andrews finished by saying "Don't you love social media?" alluding to the rabid criticism of Wainwright festering in this sewer we all call home. "No, I don't," Wainwright replied.
So, we done here?
Nope:
"What a bitch! I hate her! What a gutless bitch! Seriously, go away. Drop dead. I mean, seriously what the hell is wrong with her? First of all, follow-up. Second of all, the guy admitted he did it. He admitted it. He told reporters he threw a couple of pipe bombs. How is that social media's fault? I hate her. I seriously hate her so much. Social media is the reason she has a big house! Shut up. Shut up. I shouldn't call her a bitch, I'm sure she's a nice person."

"She's probably a bitch," one of the other hosts added.
The boys went on to call Andrews a "bubblehead" and a "bimbo."
As always, the best part came when the guy who just said something stupid and awful began to realize what he'd done. "I'm gonna get in trouble for this," Minihane said under his breath. No kidding.
Bonus: only yesterday Minihane was campaigning to use the word "asshole" on the radio. Guess he found a permissible word he liked better:
It's 2014 and I still can't use the word 'asshole' on the radio? This is absurd. It is now my crusade to get this done.

— Kirk Minihane (@kirkmin) July 15, 2014
Watch the clip below, via SportsGrid:
Update- 6:45 pm: Minihane has since issued several apologies for his language, including this tweet.
There is no defense for the language I used today to describe the work of Erin Andrews. I deserve all the criticism I've received.

— Kirk Minihane (@kirkmin) July 17, 2014
And he was absent from the radio show yesterday.
[h/t SportsGrid]
[Image via screengrab]
——
>> Follow Evan McMurry (@evanmcmurry) on Twitter
Have a tip we should know? tips@mediaite.com