Boston Public Schools Led a Walkout of Thousands of Students to Protest Budget Cuts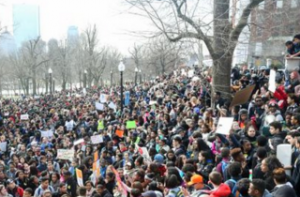 The only other time we've brought you news from Boston Public Schools, it was when a first grader was being charged with sexual harassment after punching another kid in the crotch. So, here is the second thing you'll learn from Mediaite about BPS: They staged a walkout with 1000 of their kids to protest budget cuts yesterday.
RT reported that students peacefully marched from Boston Common to the State House to City Hall. They ended at Faneuil Hall Marketplace and the police broke up the demonstration without much incident, save for a few scuffles. No one was arrested.
Boston school kids who walked out of school to protest here at the State House. pic.twitter.com/5pkhctSmzK

— Carl Stevens (@carlwbz) March 7, 2016
Students had megaphones and signs bearing messages about their opposition to the budget cuts, which they believe the city's mayor, Martin Walsh, is primarily responsible for.
"We can't be the future unless you invest in us," says O'Bryant 7th grade student to Boston School Committee. #fundallschools

— Grace Evans (@grace_h_evans) March 7, 2016
The budget cuts will slash certain programs and reduce the amount of available teaching positions, according to The Boston Globe. Walsh defended himself to the Globe, saying that initial reports of a $50 million deficit were overblown. He insisted that the School Department must look at administration, food services, and transportation to find money to give back to the schools and that teachers and adults were giving the students false information that led them to protest.
Thousands of Boston Students Just Walked Out of Class to Save Their Schools https://t.co/UFvmtfK4Db pic.twitter.com/Te00QSjHOA

— Bruce Brothers (@BruceBrothers) March 8, 2016
Some estimates put the number of kids involved in the walkout as high as 2000.
More than 2,000 Boston public school students walk out of class to protest budget cuts https://t.co/mkLvd0fQxv pic.twitter.com/KaBxZcTStw

— CampaignForChildren (@Campaign4Kids) March 8, 2016
[image via screengrab]
For more from Lindsey, follow her on Twitter.
Have a tip we should know? tips@mediaite.com