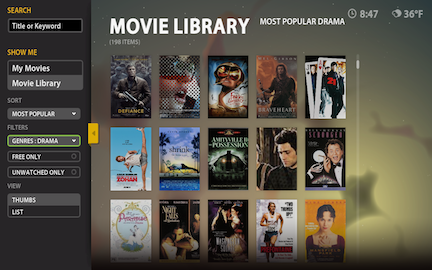 A big day for Brooklyn's own Boxee: in addition to revealing more details about the previously announced Boxee Box, the company's existing software transitioned into a public beta.
Therefore, we should probably answer this question: the f*ck is Boxee?
First of all, it isn't this. Boxee is a software / hardware system that aggregates music and video content from the web and your local hard drive into one easy(-ish) to navigate system. (You'll recognize the logo as the offspring of a frog and a reel-to-reel.)
Let me describe the service a bit more esoterically. Here are some of the logos and domain names I spotted as the system was starting up: Weather.com, IMDB, Digg, MLB, Netflix, Pandora, Youtube, Flickr, Facebook, Mozilla. That's just in getting to the homescreen. Boxee the software, in other words, seeks to provide a simple interface to jump from online episodes of Twin Peaks (currently being featured, for you nostalgia freaks) to an MP3 you downloaded in 2004 to your Flickr photos to the score of the Rangers game. Boxee the box, meanwhile, developed in partnership with D-Link, aims to get all of that onto your TV, without you having to hook up your computer to it. Just their under $200 box.
Being a technology enthusiast (pronounced gēk), I downloaded the beta and fired it up. So far, it's a 7.
Some background. I'm a Mac user. So I've grown pretty familiar with Front Row, Apple's several-year-old solution to this idea. I also dinked around with Miro when it was first announced – it has some similar functions as Boxee, but is open source. (One big difference with Miro – it includes a BitTorrent downloader, which probably makes content providers a wee bit gunshy.) Then there's Joost, a media viewer which always struck me as having similar content to the afternoon broadcasts of local TV stations – old cartoons, weird out-dated shows. Where Boxee trumps all of these tools is in its ability to rope in content from all over the place. TV networks, movie studios and websites have developed "apps" (Boxee-customized portals) and made content available for the platform that make it pretty robust out of the box.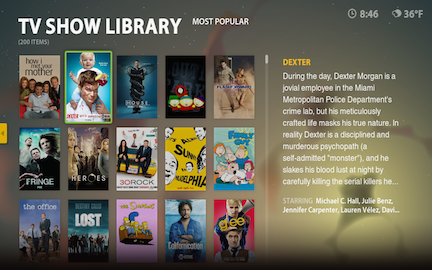 Additionally, the system makes viewing content fairly simple — TV shows and other items can be added to a queue for viewing, or added as favorites. The point-and-click icons and simplicity of the user interface makes it easy to find your way around. (I certainly can't fault the graphic design. The entire system is clean and easy on the eyes from a distance. To see more screenshots, check out Boxee's blog post announcing the beta. Should give you a sense of aesthetics.) In the upper right of the screen, the time and temperature, obviating any need to ever look away from the content.
The first thing you'll see when you first open Boxee is the following video, a guide to using the system. In fact, it loads in Boxee almost exactly as it loads below – an embedded video from the Web.


Actually, I misspoke. The first thing you'll see on running Boxee is the log-in screen. Boxee requires a user account (fair enough) to allow you to connect to Netflix, Pandora, etc. But the interface for entering text (like your username) is made to be flexible enough for non-computer interaction – meaning that it's slow and awkward to use from a computer. Click a text box, and a pop-up window with a keyboard appears. Click the text box there to actually type. That sort of thing.
In other words, it's quirky — and, in places, buggy, which hampered my ability to explore. For one thing, on the computer connected to my HDTV (again, it's pronounced gēk), no sound came out when playing music. (Pandora without sound, I can tell you, is kind of lame.) Trying to pause a TV show didn't work, and it continued to play the audio (which, for video, did work) while I navigated around. It also imported only about 50% of my music and videos, which primarily frustrated me because I wanted to have the first video I watched be Godzilla va. Mothra. Some featured content wouldn't play in my region – South Park, apparently, is not okayed for New York City. One would assume much of this will be worked out as the system leaves the beta stage.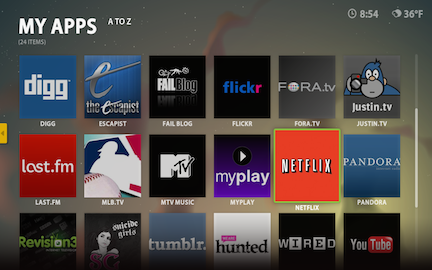 Let's hope, because what they get right is killer. I'm head over heels, for example, with the remote control iPhone app, which automatically finds Boxee on your local network and lets you control what's being shown. It demonstrates a commitment to nailing the little touches that we expect when sitting back to watch TV or a movie.
Frankly, if music played from my TV computer (and if it streamed to my AirTunes speakers — hint, hint, developers), Boxee would likely become the default media system for my TV computer. Were I restricted to my laptop, though, I'd rather just use my browser and iTunes – which, of course, is why Boxee is focusing on a hardware solution. If they can succeed where Apple TV failed, and beat competitors out of the gate, they may have a winner.
Go download the beta and explore for yourself. While you do, I'll watch the playbar in Pandora keep moving to the right in silence and try to imagine what the citizens of Japan would look like if a giant lizard stormed its way up the beach. At least I can keep track of the temperature.
(images via blog.boxee.tv)
Have a tip we should know? tips@mediaite.com