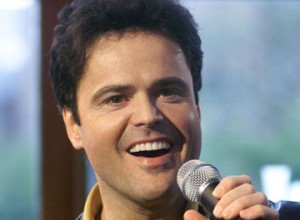 It's settled, Donny Osmond has officially left no media stone unturned. According to a press release from Citadel Media, 60 stations will air "The Donny Osmond Show," hosted by the former teen idol beginning January 18th.

If the thought of Radio Osmond seems odd to you, consider his career so far:
• Teen idol (10 albums plus 5 more with sister Marie Osmond, 1971-78)
• Variety (The Donnie and Marie Show, 1976-79)
• Game Shows (Pyramid, 2002-04 and The Great American Dream Vote, 2007)
• Film (Joseph and the Amazing Technicolor Dreamcoat, 1999)
• Best-selling books (Life Is Just What You Make It: My Story So Far, 1999)
• Commercials (Pepsi Twist, 2003)
• Broadway (Joseph and the Amazing Technicolor Dreamcoat, 1990-1996, Beauty and the Beast, 2006)
• Vegas (Donnie and Marie, Flamingo Hotel and Casino 2008-2012)
• Primetime (Dancing With the Stars, 2009)
• Miss USA Pageant (judge, 2008)
• Champion race car driver (Toyota Pro/Celebrity Race winner, 1991)
A true renaissance man if we've ever heard of one.
Osmond's newest foray following his glorious, highly besequined victory on "Dancing With The Stars," will air weekdays from 10AM to 3PM. He told the AP in true B-list celebrity fashion: "You're not up all the time, and when you are up, you ride that wave."
While the world as we know it is no stranger to Osmond's voice on the airwaves (he only had, what, 5 gold records and a rockin' Christmas album?), his new talk show basically re-presents him to his original audience, women now aged 45-60, who grew up listening to his good-boy-gone-good chart-toppers. Now they can enjoy premium content like Osmond's personal life anecdotes, his fav "adult contemporary selections," and maybe an advance screening of his new album, slated for debut in 2011 (girly screams).
Have a tip we should know? tips@mediaite.com