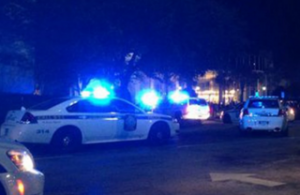 Officers are responding to calls from a mall in Columbia, South Carolina, where shots were hired fired within Dillard's and T-Mobile.
According to WISTV, the surrounding area has been closed and people are being evacuated.
The police department has tweeted the following:
Reports of shots fired at Columbiana Mall in Harbison. No victims located at this time. Law enforcement searching mall and area.

— Cola Police Dept. SC (@ColumbiaPDSC) February 21, 2016
Officers are evacuating areas inside the mall. Talking to possible witnesses/ gathering information. Assistance from police partners.

— Cola Police Dept. SC (@ColumbiaPDSC) February 21, 2016
UPDATE –– 8:00 pm EST:
Witnesses and reporters at the scene of the shooting — which happened as nearby polling places were closing down and winners of the South Carolina primary were being announced — have begun using Twitter to share details and photos.
Here is a set of pictures of a cop and K-9 responder arriving at the mall:
Photos from family trapped in Columbiana Mall following a reported shooting pic.twitter.com/r4TZN8ryR1

— Andy Paras (@AndyParas) February 21, 2016
Here are police vehicles outside of the food court:
A WLTX employee said after shots were fired, she was ushered into the back of the building https://t.co/iQVhiI6RFf pic.twitter.com/HUI7WKDhIC

— News 19 WLTX (@WLTX) February 21, 2016
ABC News 4 content manager Andy Paras reported that some of the shots are thought to have come from a Forever 21:
Some reports of shooting at Dillard's, others at Forever 21. #columbianamall pic.twitter.com/puohmDNhPX

— Andy Paras (@AndyParas) February 21, 2016
UPDATE –– 8:05 pm EST:
WLTX 19 is reporting that no injuries have been reported.
This woman, who says she is a witness, is indicating that employees and shoppers are being escorted from the mall by police and frisked before being allowed to get in their cars.
Police are around the perimeter and we are being frisked as we leave. Everyone has police escorts pic.twitter.com/3EKJH0WZKd

— Arianna M (@MedicalBrunette) February 21, 2016
[image via screengrab]
For more from Lindsey, follow her on Twitter.
Have a tip we should know? tips@mediaite.com