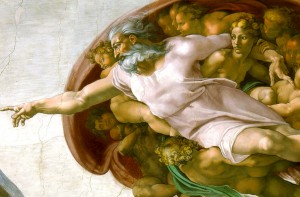 A Breitbart piece Tuesday argued that The Almighty Himself would vote for Donald Trump if He got the chance.
"Would God Vote for Trump?" wonders Phillip Jennings. While technically Jennings ends the piece without giving a definite answer, the rest of the piece is spent arguing that heck yes, He totally would.
Conservative who don't back Trump, Jennings argues, are acting like un-Christian hypocrites. "When I hear Republican and conservative elites lecture the rest of us about Trump's supposed deviations from their ideological strictures, or his shortcomings as a human being, I think about what Jesus said about casting the first stone," he wrote.
"Solomon had 700 wives and toyed with idolatry, but was still rich and powerful and respected for his wisdom. David had one of his officers sent to deadly combat so he could woo the man's wife, yet he was the model of the messiah. And Saul the persecutor of Christians became Paul the Apostle, likely the most influential single personality of the New Testament." (Missing from Jennings piece is an acknowledgement that God punished those three men, and they repented of their sins)
More importantly, he wrote, God doesn't want Hillary Clinton to be president: "God did not intend for the United States to collapse with a whimper at the hands of Hillary and her sordid minions."
"I do know that the God of Abraham who shed his grace on America had a purpose and a vision," he concluded. "He would not turn his back on a country and a people that has achieved so much under his blessings. Donald Trump wants to make America great again, and so far as I know, if he did he would be doing God's work."
[Image via screengrab]
——
>>Follow Alex Griswold (@HashtagGriswold) on Twitter
Have a tip we should know? tips@mediaite.com