Breitbart reporter Patrick Howley, who has gotten into trouble with his employer for his Twitter use before, tweeted Tuesday that if #NeverTrump consultants "harmed" him or his friends he would see to it they died in prison.
Howley later deleted the tweet, calling it "poorly-worded," but The Daily Caller's Betsy Rothstein managed to save it.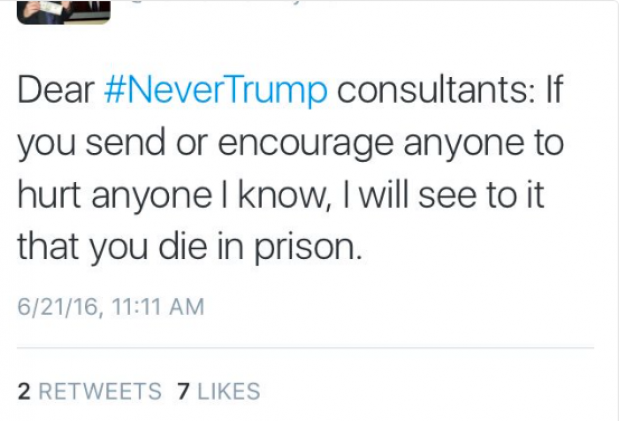 It wasn't quite clear from Howley's tweet who exactly was threatening to hurt his loved ones — or whether he intended them to serve life sentences, or was promising to whack them — but he continued with a tweetstorm about he would control the prison yard.
By the way, if I was in prison with the NeverTrump cucks, they would be shining my shoes and begging me for cigarettes!

— Patrick Howley (@PatrickHowleyDC) June 21, 2016
I'll just say this: I'm from the East Coast and I have connections. If you ever end up doing time with me, you better kiss the ring.

— Patrick Howley (@PatrickHowleyDC) June 21, 2016
If I'm on the inside, I'll not only run the yard and be respected by all groups, but the guards would fear me and work with me too.

— Patrick Howley (@PatrickHowleyDC) June 21, 2016
When you're on the inside, connections matter. That's why I would run the yard, treat it like a country club, and do my time in peace!

— Patrick Howley (@PatrickHowleyDC) June 21, 2016
In prison, as in life, those with power get respect. That's why I would dominate the yard the same way I dominate Traffic

— Patrick Howley (@PatrickHowleyDC) June 21, 2016
Cucks wouldn't do well in prison. In fact, they would do even worse than they did in this primary, which was pathetic and sad to watch

— Patrick Howley (@PatrickHowleyDC) June 21, 2016
The guards would let me have shine-able shoes, dummy. And cucks would be shining them in the yard https://t.co/IEJHmKDDis

— Patrick Howley (@PatrickHowleyDC) June 21, 2016
Only to end on this note:
Don't these trolls realize by this point that I'm literally a genius. My IQ is so high it's hard to even understand their grammar

— Patrick Howley (@PatrickHowleyDC) June 21, 2016
Since when did "unhinged" become an insult? I'm PROUD to be unhinged. I am a writer, after all

— Patrick Howley (@PatrickHowleyDC) June 21, 2016
[image via screengrab]
——
>>Follow Alex Griswold (@HashtagGriswold) on Twitter
Have a tip we should know? tips@mediaite.com