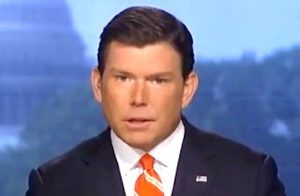 Fox's Bret Baier apologized Friday for his damning reports about the FBI's investigations into Hillary Clinton, namely his reporting that an indictment in the Clinton Foundation probe was in the works and that her server had been breached by foreign intelligence multiple times.
Baier had reported on Wednesday about the FBI's probes into the Clinton Foundation and her use of a private email server. The Fox anchor cited "sources with intimate knowledge of the FBI investigations."
"Barring some obstruction in some way, they believe they [the investigations] will continue to likely an indictment," he told Brit Hume. On Thursday morning he clarified that asserting an imminent "indictment" was "inartfully" phrased.
"That just wasn't 'inartful.' It was a mistake, and for that I'm sorry," Baier told Fox's Jon Scott on Friday. "I should have said, 'They will continue to build their case.' Indictment obviously is a very loaded word, Jon, especially in this atmosphere." He clarified that prosecutors, not FBI investigators, make the decision whether or not to pursue an indictment based on the evidence.
Baier had also told Hume that the FBI believed Clinton's private email server had been hacked by five foreign intelligence agencies.
On Friday Baier clarified that he had spoken to "one source" with "certainty that the server had been hacked by five foreign intelligence agencies." He confirmed that there were still no "digital fingerprints" to prove such a breach had occurred, but noted that the FBI was operating under the working assumption that the server had been hacked.
"All the time, but especially in a heated election, on a topic this explosive, every word matters. No matter how well sourced," he said.
Have a tip we should know? tips@mediaite.com