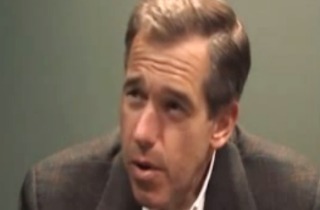 So here's another wrinkle in Brian Williams' years of telling different stories about being in Iraq: in 2007, he said he actually looked down the tube of the RPG that fired at another helicopter.
This came from an interview Williams did a few years ago with Fairfield University student media. Student reporter Emily Fitzmaurice asked him about the stories that have had the biggest personal impact on him. Williams ran off a list, recalling when he was nearly hit by rockets in Israel and when he was covering Hurricane Katrina (and his account of what happened there is also being questioned for its accuracy).
RELATED: Why NBC Shouldn't Even Think About Firing Brian Williams
But he also invoked his now-infamous helicopter trip over Iraq and said this:
"I looked down the tube of an RPG that had been fired at us and it had hit the chopper in front of ours. And I'm so fortunate to be sitting here."
Now, again, this was in 2007. And Williams said it wasn't his helicopter that was hit, but one of the other ones. Fast-forward to 2013, when Williams told David Letterman it was his helicopter that got hit.
But the line about looking down the tube of the RPG does seem awfully specific, considering Williams apologized this week for getting that story so wrong for so long.
RELATED: With No Punishment Coming, Brian Williams Takes Teflon Baton From Roger Goodell
One man IDing himself as a pilot on that helicopter said they did get hit by small-arms fire, but another man IDing himself as the pilot in command claimed they weren't fired on at all, and then the first man backed away from his account entirely.
Watch the video below:
[h/t HotAir]
[image via screengrab]
— —
Follow Josh Feldman on Twitter: @feldmaniac
Have a tip we should know? tips@mediaite.com
Josh Feldman - Senior Editor