British Teen Tricked NY Times Into Thinking Dylann Roof Loves My Little Pony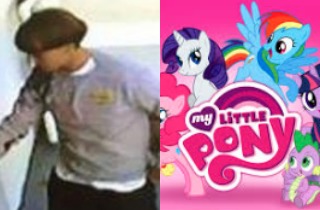 On Saturday, the New York Times published an article containing the details of Dylann Roof's manifesto, and his collection of selfies with white supremacist paraphernalia. The article has since been revised and given an editor's note after it was discovered that a British teenager tricked the Times into thinking that Roof was a huge fan of My Little Pony.
Blogger Benjamin Wareing told Fances Robles that he knew Dylann Roof before the Charleston shooting, and that his manifesto resembled posts on a deleted Tumblr page where Roof posted 9/11 memes and "brony" writings. Before the piece was corrected, the article wrote:
Mr. Wareing was preparing to write an essay on the dangers of Tumblr and troubled youths, so he took notes on the writings.

"He just made really stupid but obvious statements about people from other races," Mr. Wareing said in an email. "He would call black citizens 'nuggets' and such. He never made direct threats at all on Tumblr, at least it didn't seem like that, just weird ramblings about how he felt he 'didn't fit in.'"

Among his writings were images of 9/11 "memes" and of "My Little Pony," Mr. Wareing said.
In a report from Fusion, Wareing had a mutual Facebook friend with Roof, and when Wareing's friend was flooded with messages from eager reporters, he directed Robles, and possibly others, to Wareing. Wareing decided to play his prank by posing as a long-distance contact of Roof's, giving a fake story about Roof's behavior and telling reporters about the nonexistent MLP Tumblr page.
"I told her that Dylann Roof had some 'elusive' and mysterious Tumblr page in which he posted his deepest thoughts," Wareing wrote to the Huffington Post. "Without providing any screenshots or ANY proof of its existence other than my own word, the reporter published it as fact. Oops."
The Times story has since been corrected. Robles referred requests for comment to her editor. But she did tweet a message:
As I lament a bad day of being Twitter-Trolled, I remember that 9 people died Wednesday for no other reason than being black. #Perspective

— Frances Robles (@FrancesRobles) June 20, 2015
[h/t Gawker]
[Image via Screengrab / Hasbro]
— —
>> Follow Ken Meyer (@KenMeyer91) on Twitter
Have a tip we should know? tips@mediaite.com