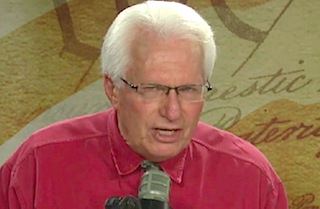 It's a sign of the times that TownHall.com editor and Fox News contributor Guy Benson's big coming out interview with BuzzFeed was met with little more than a shrug, even in conservative circles. But that was before the American Family Association's Bryan Fischer weighed in.
In a new blog post titled, "'Gay Conservative' Is an Oxymoron," Fischer refuses to accept the idea that LGBT Americans can also be Republicans.
In Fischer's view, Benson, "believes that the Republican Party's embrace of natural marriage, the institution God designed and defined at the dawn of time, is a 'barrier to entry to the party,' a barrier which he believes must come down" and "seems dedicated to do his part to demolish this barrier and turn the GOP into a sodomy-promoting political machine."
Then, in a passage that truly sums up Fischer's fears about the direction of American conservatism, he writes, "Benson is young, smart, and articulate and often appears on Fox News as a pundit on all manner of political issues. This makes him particularly dangerous to the conservative cause."
And lest you think Fischer has anything against Benson "personally," he insists that he "certainly seems like a particularly nice and friendly individual." (Except for that whole issue of "sodomy-promoting" though, right?)
Fischer also calls on Salem Media Group, which owns TownHall.com and says it targets "audiences interested in Christian and family-themed content and conservative values," to replace Benson, whose "values on homosexuality are not Christian, family-themed, or conservative."
He continues:
In truth, the term "gay conservative" is an oxymoron, along the lines of "honest thief." The first term is flatly and inescapably contradictory to the second.

There is nothing "conservative" about homosexuality or the homosexual agenda. To be a conservative under any understanding of the term means to conserve, protect and defend the values on which America was built. To put it bluntly, those values do not include celebrating, endorsing and promoting unnatural sexual expression.
By the end of his piece, Fischer permits gay conservatives to call themselves "homocons," "gayservatives" or "gaytarians" but writes, "Just don't call them 'conservatives,' for that most certainly is not what they are."
One group of conservatives who appear to wholeheartedly disagree with this assessment are Benson's colleagues over at Fox News. The Fox contributor shared his story on The Kelly File Monday night and then revealed this tidbit of a supportive phone call he received from none other than Sean Hannity:
Wanted to *publicly* thank my friend @seanhannity for his kind, encouraging phone call. His gesture represents the very essence of #NoH8 IMO

— Guy Benson (@guypbenson) May 5, 2015
[Photo via screengrab]
— —
>> Follow Matt Wilstein (@TheMattWilstein) on Twitter
Have a tip we should know? tips@mediaite.com