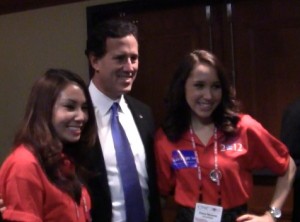 Former Pennsylvania Senator Rick Santorum is just the latest in a long line of Republican presidential hopefuls to surge past former Massachusetts Governor Mitt Romney into the lead, and while every one of those other comers has withered for one reason or another, Santorum's challenge is different. Setting aside his prospects in a general election, a review of Mitt Romney oppo memos against Santorum reveals a candidate with a hard shell to his right.
In addition to that 15 point lead Santorum enjoys in the latest PPP poll, he is now ahead of Gov. Romney in another national poll (from Pew), and is actually beating Romney in his home state of Michigan, where his father was once governor. Even left-leaning pundits like Ezra Klein, who have a natural revulsion for Santorum that can cloud their judgment, can now see a path to victory for the social ultra-conservative.
Aside from the obvious flattening effect of the debates and the political media on Romney's money advantage, Santorum has a huge edge on both Mitt Romney and Newt Gingrich in the crucial area of likability. What makes Santorum so unappealing to liberals (and perhaps to the general electorate) is not just his extreme social conservatism, but his utterly convincing commitment to it. In a bizarre way, I think most liberals would concede that Santorum is trustworthy, in that he can be counted on to carry out the beliefs we so despise.
To a Republican primary audience, that's a feature, not a bug. Additionally, Santorum has an authenticity that his rivals can't approach. Moon Emperor Gingrich has an erratic, inaccessible intellect, and Mitt Romney always sounds like one of the Coneheads, trying to blend in with the HU-mans. Over the course of four CPACs and countless rallies, I've watched a lot of Republican politicians interact with voters, and I've never seen one as comfortable and at ease as Santorum.
However, Santorum's real strength, the thing that sets him apart from previous flashes in the pan, is that, in a Republican primary, he is nearly bulletproof to the kinds of attacks that finished off Newt Gingrich in Florida. The Romney campaign sends out tons of emails every day, many of them opposition research memos and attacks on their candidate's rivals, and while the barrage against people like Newt Gingrich has looked like something out of a Saw sequel, there has only been one consistent line of attack against Rick Santorum.
Almost without exception, these attacks have to do with Santorum's record on earmarks, and sometimes, more broadly, other things he did as a Senator. There were two emails, months apart, that trumpeted Santorum's 2008 endorsement of Romney, and one that reached back to the mid-nineties to a handful of pro-labor (really, they were not sufficiently anti-union) votes. The overwhelming majority of them, though, were on the specific issue of earmarks.
That's not nothing, but Romney (and earlier, Rick Perry) has been throwing this spaghetti against the wall for months, and it hasn't stuck yet. Even if it had, that's all Romney has. All of the things that will plague Santorum in a general election (up to and including the "man-on-dog" thing) are off the table for Mitt Romney because they would help Santorum with conservative primary voters.
Even worse for Romney is that Santorum has a pretty good counter to the earmark attack, one that almost makes the "Bridge to Nowhere" seem like a decent idea. Here's Sen. Santorum responding to the earmark attack in December, in an interview with Ed Schultz: (there's something else you won't see Romney or Gingrich do)
Since attacking Rick Santorum's right flank is out of the question, there's not much left for Mitt Romney to do. He certainly can't move to Santorum's right, not without causing a tear in space-time and vanishing into an alternate universe. Maybe he can get people there to like him.
Have a tip we should know? tips@mediaite.com