Bumbling Mayor de Blasio Blames Fog, Fatigue for Tardiness to Memorial Service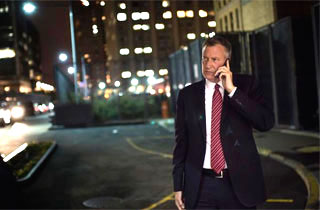 From the "You Can't Make This Stuff Up" Department…
On Thursday, New York City marked another somber anniversary. This time, it was about remembering the lives lost from the crash of American Airlines Flight 587 thirteen years ago that killed 265 people, including five on the ground. It is the second deadliest aviation crash involving an Airbus A300 in history. Since it happened shortly after 9/11, it often gets overlooked on a national media, but is covered every year by local NYC affiliates.
So you can only imagine the reaction when New York City Mayor Bill de Blasio showed up late for a moment of silence to mark the exact time (9:16 AM) the plane crashed.
Miriam Estrella lost five family members that day and was responsible for ringing the bell signifying the moment of silence. When 9:16 AM came, the mayor was nowhere to be found.
"They kept telling us, 'Wait, he's coming. He's coming,' and I said, no, we're not waiting. We're not going to wait for him for a moment of silence. It happened at a certain time. That's the time that we have to toll the bells," Estrella said.
So she went ahead and rang the bells anyway. Good for her.
What was Mr. de Blasio's excuse? Hope you're not eating or have any sharp objects around. Most of all, be sure to be sitting down. After blaming fog for hampering travel, he offered up this doozy:
"I was just not feeling well this morning. I had a very rough night. I woke up sluggish, and I should have gotten myself moving quicker…just woke up in the middle of the night and couldn't get back to sleep and I felt really sluggish and off-kilter this morning."
Well, when you put it that way…
"Everyone has had a rough night, but you have to do your job the right way," Estrella said to him directly in response. Good for her again.
Bill de Blasio came into office by capturing 73 percent of the vote one year ago. He comes from the Elizabeth Warren wing of the Democratic Party and is soundly principled in that regard; he's a hard-core liberal and proud of it, which is hard to find these days. The 53-year-old NYU graduate has even evaluated himself as a national voice (when no one else has), writing the following in the Huffington Post following his party's decimation last week:
"This year, too many Democratic candidates lost sight of…core principles – opting instead to clip their progressive wings in deference to a conventional wisdom that says bold ideas aren't politically practical. … Bold, progressive ideas win elections."
But for de Blasio to be lecturing anyone on how to go about governing is laughable in the eyes of even some the New Yorkers who voted for him. He may have captured 73 percent of the vote, but the bloom fell off the rose too soon thereafter via a series of missteps you can read about in a previous column here. Just four months after being elected in the aforementioned landslide, his approval rating fell to just 45 percent (Quinnipiac) and has stayed around the level since.
Bill de Blasio was late to a memorial service. Not the end of the world.
But instead of simply apologizing and begging for forgiveness, he offered up the kind of lame excuses a 7th grader does when late for class. A local CBS affiliate interviewed New Yorkers shortly thereafter:
"Rude." "Disrespectful." "Insulting." Those were three ways to describe New York's 109th Mayor's actions yesterday morning. And those were the ones fit for print.
Yup, you really can't make this stuff up.
[Image via Mayor Bill DeBlasio/Twitter]
— —
>> Follow Joe Concha on Twitter @JoeConchaTV
Have a tip we should know? tips@mediaite.com