California Prisons Forcibly Sterilized 150 Women: Treated Them Like 'Animals' They Didn't 'Want To Breed'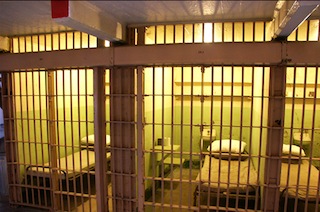 According to a study by the Center for Investigative Reporting, doctors working at the California Department of Corrections and Rehabilitation sterilized 148 female prisoners between 2006 and 2010.
Doctors under contract at the California Institution for Women in Corona and Valley State Prison for Women in Chowchilla performed tubal ligations on at least 148 women, and the Center says there could be up to 100 more cases stretching back to the 1990s.
The procedures were performed on pregnant women whom the doctors thought showed a high likelihood of returning to prison.
Via the Center's release:
Crystal Nguyen, a former Valley State Prison inmate who worked in the prison's infirmary during 2007, said she often overheard medical staff asking inmates who had served multiple prison terms to agree to be sterilized.

"I was like, 'Oh my God, that's not right,' " Nguyen, 28, said. "Do they think they're animals, and they don't want them to breed anymore?"
One of the doctors implicated defended the practice and its $150,000 price tag.
"Over a ten-year period, that isn't a huge amount of money," said Dr. James Heinrich, Valley State's OB-GYN, "compared to what you save in welfare paying for these unwanted children—as they procreated more."
Daun Martin, the top medical practitioner at the prison, characterized the procedures as providing female prisoners with access to health care available on the outside.
Martin denies approving the sterilizations. California law requires that the tubal ligations receive such approval, but Dr. Ricki Barnett, an internal watchdog, said this came as news to the doctors performing the procedure. "Everybody was operating on the fact that this was a perfectly reasonable thing to do," she said.
The practice of forced sterilization was banned in the state in the late 1970s.
Read the full article HERE.
[h/t Center for Investigative Reporting]
—
>> Follow Evan McMurry (@evanmcmurry) on Twitter
Have a tip we should know? tips@mediaite.com