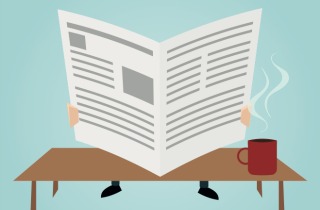 Regular readers of the comic strips, a.k.a. the only people keeping newspapers afloat with their subscriptions, may have noticed something strangely familiar in their daily funnies this week. For three days, one of the most beloved artists in the medium, Bill Watterson, was conducting a stealth mission right under our noses. Watterson, whose iconic Calvin and Hobbes last appeared in 1995, had been secretly guesting in Stephan Pastis' widely syndicated Pearls Before Swine strip. It was the first time his work had appeared in a newspaper in almost twenty years.
Pastis was just as stunned by his good fortune in coaxing the notoriously reclusive Watterson back into the fold as the rest of us, he explained on his blog.
Bill Watterson is the Bigfoot of cartooning.

He is legendary. He is reclusive. And like Bigfoot, there is really only one photo of him in existence.

Few in the cartooning world have ever spoken to him. Even fewer have ever met him.
So, when Pastis was traveling through the Cleveland area, he had little hope that his message to Watterson would be returned. Watterson, it turns out, had been aware of Pastis' strip, including one in which his alter-ego pretended to be Watterson in order to impress a woman.
"Several years ago, when Stephan did one of his strips that mocked his own drawing ability and mentioned my strip in comparison, I thought it might be funny for me to ghost 'Pearls' sometime, just to flip it all on its head," Watterson told The Washington Post. "It was just a silly idea, and I didn't know Stephan, so I never pursued it, and years went by."
When Pastis reached out, Watterson was looking for a way to raise money for Team Cul de Sac, a charity co-founded by cartoonist Richard Thompson to fight Parkinson's disease, from which he suffers himself.
"I thought maybe Stephan and I could do this goofy collaboration and then use the result to raise some money for Parkinson's research in honor of Richard Thompson," Watterson said. "It just seemed like a perfect convergence."
The results were Watterson guesting in the second panel of three of Pastis' strips. (You can check out those three strips here, here, and here.) The playful lines, and animals brimming with life, not to mention the fantastical imagination, will read as unmistakably Watterson now that the game has been revealed. (Watterson had insisted it be kept secret until after the fact).
Pastis says that it was a dream come true. "Like at one point when I wanted to change a line of dialogue he wrote, I prefaced it by saying, 'I feel like a street urchin telling Michelangelo that David's hands are too big.' But he liked the change. And that alone was probably the greatest compliment I've ever received."
[image via Shutterstock]
— —
>> Luke O'Neil is a journalist and blogger in Boston. Follow him on Twitter (@lukeoneil47).
Have a tip we should know? [email protected]