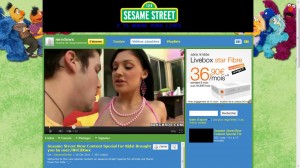 If you were cruising for some old Sesame Street clips the last two days, you probably noticed that the show's official YouTube page was down. That's because, earlier on Sunday, the site was hacked, and clips of XXX movies were interspersed alongside those brought to you by the letter X. The clips were up, according to The Next Web, for about 22 minutes before Google shut down the page, citing the Community Guidelines policy that prohibits graphic content.
The channel's profile was also changed, and a message from the would-be perpetrators introduced a new mission statement to 123 Sesame Street:
WHO DOESN'T LOVE PORN KIDS? RIGHT! EVERYONE LOVES IT! IM MREDXWX AND MY PARTNER MRSUICIDER91 ARE HERE TO BRING YOU MANY NICE CONTENT! PLEASE DON'T LET SESAME STREET TO GET THIS ACCOUNT BACK KIDS :( PLEASE…LET ME AND MRSUICIDER91 HAVE IT AND WE GONNA MAKE ALL THE AMERICA HAPPY!
A short while after the page was taken down, MREDXWX, a gamer who posts walk-throughs and game cheats on his YouTube channel, posted an 18-second video proclaiming his innocence:
The good news for fans of the show, however, is that while the channel itself is down, a search for individual videos turns up most of the classics by user "SesameStreet." Clicking on the name says that the channel has been deleted, but most of the videos remain. It's not clear just yet when the official channel will return, but, for the immeditate future, it looks like parents and fans will just have to do manual searches for the videos they want to see until the dust settles:
Have a tip we should know? tips@mediaite.com