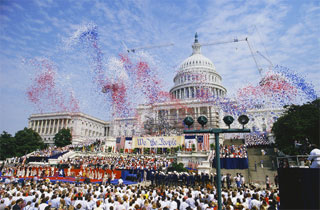 Every year, Washington DC participates in an exercise of collective catharsis known as the Fourth of July, a.k.a. the only time of the year when it's socially acceptable for the city's repressed poli-sci nerds to let loose and get sloppy drunk in public. (We're celebrating America! The Founders would have wanted this.) But alas, thanks to a crackdown by the Capitol Police, this brief hedonistic window may soon close.
CNN broke the sad news that, thanks to an increase in "heavily-drunk partygoers" in the U.S. Capitol building during Independence Day celebrations, they will start to restrict the number of people who can enter the building, which has excellent views of the annual concert, fireworks and, come on, partying in the U.S. Capitol on America's birthday. However, the Capitol Police have quite a few good reasons to limit the number of drunk a-holes in the building: in the past few years, they've suffered security issues, increased injuries, and skyrocketing bills to cover the cost of monitoring these parties. (There's also the problem of staffers smuggling "liquids" into the building: "These liquids are very frequently sanctioned as 'staff property' and allowed to bypass the regulation to expedite the security screening process." You know what "Liquids" mean.)
In a letter, the Capitol Police recommended two changes: first, limiting Fourth of July access to members of Congress, their guests, and staffers who have their offices in the actual Capitol Building. (This would exclude most Congressional staffers, who not only are housed in external office buildings, but are also largely underpaid and therefore craving any excuse to get drunk for free.) Second, they proposed that post-Concert afterparties be moved to the nearby glass-enclosed Botanical Gardens, which would require fewer officers to conduct security screenings. "Guests roaming such a large area, encompassing two floors, make it very difficult, if not impossible for the Capitol Police to monitor everyone effectively and thus prevent persons from wandering into restricted areas and private congressional spaces," the letter noted.
Capitol Hill staffers and their friends will have to go back to drinking in private. Or at lobbyist parties. The lobbyists throw good parties. It is mildly unethical! So don't Instagram them.
[CNN]
[Image via American Spirit / Shutterstock.com]
—
>> Follow Tina Nguyen (@Tina_Nguyen) on Twitter
Have a tip we should know? tips@mediaite.com