Carly Fiorina: I'm No Trump Voter But They're Not 'Racists or Crazies or Stupid'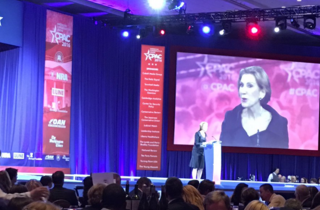 At CPAC this evening, Carly Fiorina spoke at the Ronald Reagan Dinner and, according to people in attendance, she did a great job. Her appearance at the event is especially noteworthy given how some remaining GOP candidates — namely, Donald Trump — have decided not to go.
Come to think of it, Fiorina is one of the few 2016 candidates who left the race with her reputation & character intact. #CPAC

— Amy Lutz (@amylutz4) March 5, 2016
Buzzfeed's political news editor, Katherine Miller, tweeted out part of Fiorina's speech:
Hm, here's Carly tonight pic.twitter.com/C517q2DoIx

— Katherine Miller (@katherinemiller) March 5, 2016
In it, Fiorina distanced herself from Trump voters while still lauding them, which is something most other candidates and pundits, including the man himself, haven't done well. She said, "I understand and respect the people who did vote for him. I know many of them. They are not racists or crazies or stupid. While many people call The Donald a fraud or a con-man, there are a lot of voters out there who think they have been conned election after election."
Still, she went on to advise voters on the best way to "beat Donald Trump," so in the end, she wasn't showering him with compliments; she was instead empathizing with the voters before telling them that there were other ways to have their concerns addressed.
Carly Fiorina hits nail on the head with speech @CPAC Doubt the establishment heard..

— Amy Garman (@AmyLGarman) March 5, 2016
Fiorina just killed at CPAC.. The Establishment is not clapping.She said don't mess with the will of the people in short. CLASSY

— Brian Watts (@The2ndguardsUS) March 5, 2016
Fiorina and her followers made themselves very clear. The only question left, then, is whether people will react the same way to Glen Beck when he closes out the conference tomorrow.
[image via screengrab]
For more from Lindsey, follow her on Twitter.
Have a tip we should know? tips@mediaite.com