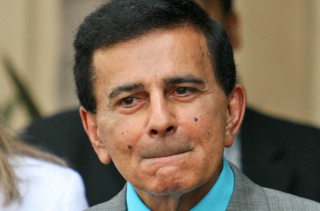 On Wednesday, a judge upheld the right of former radio icon Casey Kasem's daughter, Kerri, to withhold medication, food, and fluids from her father who currently suffers from sepsis, dementia, and Parkinson's.

On her Facebook page, Kerri wrote:
The court's decision today upheld our father's explicit wishes as expressed by him in his health directive: "If the extension of my life would result in a mere biological existence, devoid of cognitive function, with no reasonable hope for normal functioning, then I do not desire any form of life sustaining procedures, including nutrition and hydration…." Transitioning our father's treatment to comfort-oriented care was one of the hardest decisions we've ever had to make. For the last 11 days, our father has been surrounded day and night by love and care by his daughters Kerri and Julie, his son Mike, his brother Mouner and sister-in-law Mary, and his dear friend Gonzalo Venecia. We continue to hope that Jean and Liberty will come join his family during this time.
She later explained what, exactly, this withholding of life support entails:
For people who do not understand the natural dying process:

Giving food and water to a dying body creates pain and further suffering. The body does not want or require food or water anymore in the dying process.

My father can no longer digest foods and fluids fill his lungs up and will suffocate him. My Dad IS on pain meds.
The ailing Kasem was previously in the news for his current wife's ugly battle with his children over health care rights for the Top 40 legend. His children at one point obtained a court-ordered probe to find him, after the wife had moved him to an undisclosed treatment facility. He was later found in Washington State, but the ongoing dispute has not gotten any less unpleasant.
[h/t Detroit Free Press]
[Image via Shutterstock]
Have a tip we should know? [email protected]