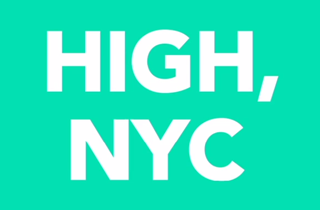 On April 1st, Times Square was supposed to be set ablaze (get it?) by a new electronic billboard for Weedmaps.com, a website for people looking for their local marijuana dispensaries, advocating for the legalization of pot in New York. And then CBS snuffed it at the last minute, despite it being fairly innocuous ad approved by the owners of the billboard itself. (Apparently CBS has final say over what content goes up on certain billboards? Who knew?)
The ad, which would have occupied prime real estate in the huge tourist trap, was originally given the green light, but CBS's legal team stepped in at the last minute and prevented the ad from going live — something that Weedmaps didn't learn about until they went to Times Square yesterday and discovered that their 10-second ad wasn't there.
And if you're wondering whether it was just because it was a pro-marijuana ad in a state that hasn't legalized it (the state is only now considering loosening medical marijuana laws), CBS has actually put up pro-weed billboards in Times Square before: in 2010, the National Organization for the Reform of Marijuana Laws Foundation (NORML) managed to get a 15-second spot onto a Times Square billboard after CBS nixed the campaign, thanks to a Change.org petition.
Weedmaps CEO Justin Hartfield told Mashable that he "was surprised, but not shocked," and remained "cautiously optimistic that CBS is going to do the right thing." He did say, however, that he would explore other advertising options should the billboard plan fail: "This is America and people still want money, just like people still want weed."
Here's the ad in question:

[Mashable]
[Image via screencap]
— —
>> Follow Tina Nguyen (@Tina_Nguyen) on Twitter
Have a tip we should know? tips@mediaite.com