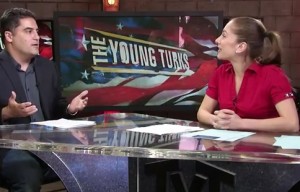 Marvel's X-Men comics are in the news these days because the series' longtime openly-gay character Northstar is about to get married, much to the consternation of anti-gay group One Million Moms (I ask again, if they're so anti-gay, shouldn't there also be One Million Dads?). The Young Turks host Cenk Uygur used the occasion to recall a time when Rebecca Romijn (then-Stamos) took offense to Cenk's question about X-Men charsacter Mystique's sexuality, and had him banned from the interview circuit.
The upcoming issue #51 of Astonishing X-Men will feature the marriage of Northstar to his partner, Kyle Jinadu. Concurrently, DC Comics has announced that an existing character will be re-launched, and will come out as gay. Both announcements came closely on the heels of President Obama's expression of support for same-sex marriage.
During a Young Turks segment on the announcements, Cenk revealed that, years ago, X-Men film star Rebecca Romijn-Stamos (now just Romijn) didn't take kindly to a question about her character Mystique's sexuality. "In an interview I asked her, 'Hey how do you feel about the comic book character originally being lesbian,'" Cenk told co-host Ana Kasparian. "And she answered, you know, curtly, and, I'll say, somewhat politely. And then she kicked me off the interview circuit."
"She's like, 'How dare this guy ask me about an inappropriate question,'" Cenk added. "What's so inappropriate about it? In the comic book, she's a lesbian, I asked you about it."
He went on to explain that then-TYT co-host Ben Mankiewicz was very nearly banned in Uygur's stead, but quickly threw him under the bus.
Here's the clip, from The Young Turks:
Have a tip we should know? tips@mediaite.com