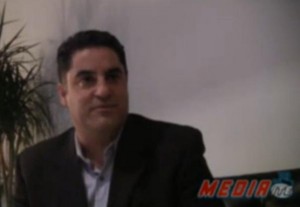 While reporting on Current TV's coverage of the Democratic National Convention last week, I sat down briefly with The Young Turks host Cenk Uygur to see how the TV version of his long-running broadcast has been going. When Keith Olbermann left the network, TYT was beating him in the 25-54 demographic, and Uygur says the show's audience has been "growing steadily" ever since.
The emergence of The Young Turks as a ratings force for Current helped take some of the sting out of Keith Olbermann's departure from the network. While it took TYT a few months to begin beating Olbermann's Countdown in the 25-54 demo, Cenk Ugur's ragtag band outpaced Olbermann in the attractive 18-35 demo almost from the outset, delivering newer, younger viewers to the network and its established star.
Now, Uygur is not just the network's ratings tentpole (although the entire schedule has had encouraging numbers), he's also something of a symbol of the success they're looking for. Regardless of whether he's on TV at Current, or at MSNBC, Cenk and TYT have maintained an innovative internet presence that even earned Cenk the admiration of the late conservative media icon Andrew Breitbart. It is precisely that innovative streak that Current TV is relying on to set itself apart in the cable news landscape.
On Thursday, Cenk told me that since Olbermann's exit, TYT's audience has been "growing steadily," when you consider cyclical factors that affect all cable news channels. "We're this close to taking on American Idol," he joked, adding that the online TYT empire is doing "awesome," with over 30 million views per month on YouTube.
Cenk also denounced the Democrats for giving in to right-wing pressure by amending their party platform ("it's so goofy…"), but was surprisingly forgiving of the mainstream media for making it such a huge story. "Look, the media, in this case, it's slightly understandable," he said. "They do right-wing/left-wing , and the right wing was screaming bloody murder, 'cuz that's all they've got, they don't have any policy."
"What's the media going to do?" he asked. "They're going to say 'The Republicans are really upset about this," they're going to cover it, I get it."
Finally, he took a second to respond to John Fugelsang's roastmaster barrage (coming soon: a behind-the-scenes look at Current's coverage):
Follow Tommy Christopher (@TommyXtopher) on Twitter.
Have a tip we should know? tips@mediaite.com