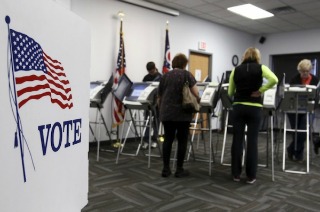 Founder of The Cook Report and National Journal columnist Charlie Cook recently had the opportunity to listen in on a briefing held by Democratic pollster Stanley Greenberg and The Voter Participation Center founder Page Gardner. Cook revealed that, based on his observations from that call, Democrats have some cause for concern heading into the 2014 midterm election season. He says that, according to the findings in a survey conducted by the Democratic firm Greenberg Quinlan Rosner Research, he foresees the potential for a midterm electorate that is 3 points more Republican than the 2012 electorate.

Cook writes that, in spite of the fact that the Democratic "brand" enjoys a higher public favorability rating than the Republican brand, neither party is popular. Furthermore, the electorate is unlikely to favor the Democrats in the same way it will for the GOP.
"[A] 2014 midterm-election electorate will not closely resemble the 2012 presidential electorate; it looks about 3 points more Republican than the turnout from last November," Cook writes.
While Democrats had a narrow 2-point advantage on the generic congressional ballot test among all voters, 44 percent to 42 percent, among those seen as most likely to vote next year, the electorate tilted slightly the other direction, to a 1-point edge for the GOP, 44 percent to 43 percent.
In 2012, the national electorate was 6 points more Democratic than Republican, with 38 percent of self-identifying as Democratic to exit pollsters and only 32 percent identifying as Republican. This electorate resulted in Democrats winning the national popular vote for Congress by 49.2 to 48.0 percent, netting them eight pickups in Congress.
In 2010, when Republicans picked up 63 seats in the House, the electorate split evenly at 36 percent Republican, 36 percent Democratic, and 28 percent independent.
Caveats, however, abound at this stage of the 2014 election cycle. First, any polling taken more than 12 month out from an election should be taken with a grain of salt. Secondly, firms attempting to model the 2012 electorate even just weeks ahead of the election were dead wrong – Rasmussen Reports and Gallup, two firms with strong track records modeling electorates in the past, dramatically overestimated the Republican turnout ahead of election day last year. Finally, as Cook warns, Republicans perform strongest among seniors – a group which looks less enthusiastic about turning out to support the GOP this time around, according to the GQR survey.
Exit polls show that in the 2010 GOP wave election, seniors voted by a 21-point margin in favor of Republicans for Congress, 59 percent to 38 percent; in 2012, a better year for Democrats, seniors voted Republican by just a 12-point margin, 56 percent to 44 percent. A January poll by Greenberg's firm showed a similar 11-point Republican margin, but a survey in March indicated the GOP advantage had dropped to only 6 points, 47 percent to 41 percent. This new survey pegged it at 5 points, 46 percent to 41 percent. It is far too early to point to some seismic shift among older voters, but this is something that should be watched over the next 15 months.
Read Cook's analysis via National Journal
> >Follow Noah Rothman (@NoahCRothman) on Twitter
Have a tip we should know? tips@mediaite.com