Charlotte Protester Tells CNN: Most of the Country Are Not 'Donald Trump People'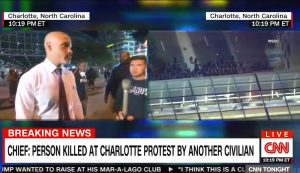 Toussaint Romain, a public defender, spoke to CNN's Boris Sanchez on the streets of Charlotte Wednesday as a second night of violent protest engulfed the city.
"We can't lose any more lives man. I'm a public defender, I can't defend any more people," Romain said. He continued, "People are hurting, man. People are upset. People are frustrated. People need leaders. I'm not trying to be that leader, I'm trying to prevent people from being hurt."
Romain spoke to CNN after officers had ordered all protesters, including media, to disperse. Windows had been shattered, at least one store had been looted, and authorities had fired tear gas and rubber bullets into the crowd. Sanchez was among those who was tear-gassed.
One civilian had been reported by multiple outlets as having been shot and killed. After this interview was broadcast, the Charlotte city Twitter account announced that he was in critical condition and on life support, but not deceased. Additionally an officer had been hurt.
Asked about the protester who was killed in what Sanchez said was "civilian-on-civilian violence," Romain said, "If you were to take this camera and look all around, I don't see the violence, man. Until the police are running at us."
He asked Sanchez, "Why did you get tear-gassed? Why did I? When we responded in a way that was frustrated and upset, telling America: 'This is enough.' It doesn't mean I'm violent, man. It means I've had enough."
When asked about the protesters who, in Sanchez's words, lose control, Romain said, "Donald Trump is running for president of the United States. That doesn't make all the rest of America Donald Trump people. We're here to make a stance. We're here to show that we're not the same. And we're here to say enough is enough."
Protesters took to the streets following the death Tuesday of Keith Scott, a black man shot by police. Police say he was holding a gun, while a witness says he was holding a book. Video of the shooting has not been released. Charlotte's Mayor Jennifer Roberts told CNN that she had not viewed the video yet, but she would see it when it was released to the public on Thursday.
—
Sam Reisman (@thericeman) is a staff editor at Mediaite.
Have a tip we should know? tips@mediaite.com