'Cheapest Date in the Biz': Twitter Rips Chris Cillizza For Calling Trump Speech 'Poetic'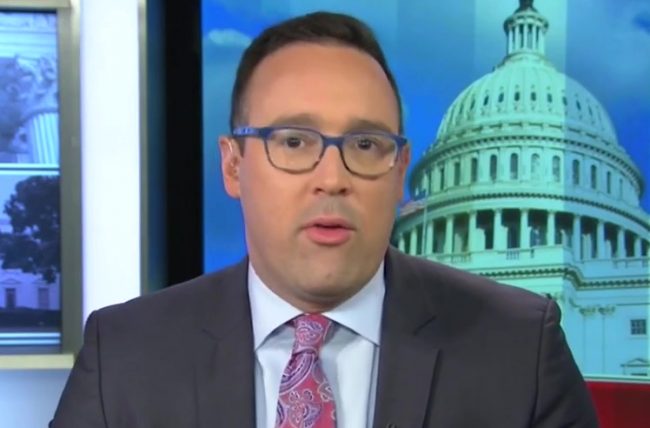 At 10:18 a.m. ET, 14 minutes into President Donald Trump's address before the United Nations General Assembly, CNN politics reporter Chris Cillizza tweeted the following:
"Righteous many." "Wicked few."

A MUCH more poetic speech than Trump usually gives.

— Chris Cillizza (@CillizzaCNN) September 19, 2017
His take didn't age well.
Two minutes after Cilliza's tweet, Trump spoke about North Korea in terms no one would consider poetic.
"The United States has great strength and patience, but if it is forced to defend itself or its allies, we will have no choice but to totally destroy North Korea," Trump said. He added, "Rocket Man is on a suicide mission for himself and for his regime."
Twitter mocked Cillizza for calling the speech poetic. Here is a sampling of the criticism.
Trump: [shoots someone in head]

Chris Cillizza: The restraint Trump showed in not burning them alive is so presidential. Strong leadership.

— Charles Clymer?️‍? (@cmclymer) September 19, 2017
FFS that was from *today*?! Trump is a poet just like Cillizza is a journalist

— Sarah Kendzior (@sarahkendzior) September 19, 2017
If the goal here is to make everyone stop fearing nuclear annihilation but actually welcome it, then I say, "good job, Mr. Cillizza!" https://t.co/ckk9Pu6aYX

— Jeet Heer (@HeerJeet) September 19, 2017
Peak Cillizza: talks about the poetry of the language, ignores that it sets up a direct confrontation with a nuclear regime. https://t.co/xkDNTOUO1m

— Kelsey D. Atherton (@AthertonKD) September 19, 2017
BREAKING: Chris Cillizza has never read a poem.

— Creepsville Citizen (@scaryfriar) September 19, 2017
You are the cheapest date in the biz.

— Jeremy Wilcox (@jwilcox79) September 19, 2017
Have you lost your mind? He threatened to blow up North Korea. Maybe you think today's the day Trump became presidential, too.

— Anita Creamer (@AnitaCreamer) September 19, 2017
Cillizza's always gonna Cillizza.

— Rod Green (@thetheRedundant) September 19, 2017
All it takes is a few cliches huh

— Eoin Higgins (@EoinHiggins_) September 19, 2017
Cillizza defended his Tweet — saying it was a real-time reaction to the speech prior to the North Korea rhetoric.
*trump "we have to kill the loser terrorists & 'rocket man'"
Chris "SO poetic"

— Marquis de Favras (@RickFly3) September 19, 2017
Nope. Look at when I tweeted this. Well before Rocket Man.

— Chris Cillizza (@CillizzaCNN) September 19, 2017
Ah. My bad. You just overreacted to two adjectives early in a speech. When you put it like that it sounds way better.

— Marquis de Favras (@RickFly3) September 19, 2017
I didn't overreact. I was tweeting in real time. have a great day.

— Chris Cillizza (@CillizzaCNN) September 19, 2017
— leon ? (@leyawn) September 19, 2017
OH MAN. You cherry picked one in a series of live tweets to dunk on me. Congrats!

— Chris Cillizza (@CillizzaCNN) September 19, 2017
Incidentally, Cillizza was not without his backers. Chief among them, our own Larry O'Connor
The comments on this thread… Didn't you get the memo, @CillizzaCNN? Thou shalt never say anything about Trump that isn't negative… EVER! https://t.co/N6pRnsur3W

— Larry O'Connor (@LarryOConnor) September 19, 2017
[image via screengrab]
——
Follow Joe DePaolo (@joe_depaolo) on Twitter
Have a tip we should know? tips@mediaite.com
Joe DePaolo - Senior Editor