Bad news for bad people: the cheating site Ashley Madison, essentially an adultery app, was hacked Monday morning, and the hackers are threatening to release the personal information of the site's users unless AM is taken down. (Hackers. So moral.)
Per Krebs on Security, which first reported the breach, the hackers got data from all of Avid Life Media's ventures, including Cougar Life and Established Men. The hackers also stole employee information.
"We're not denying this happened," ALM's CEO said. "Like us or not, this is still a criminal act."
The hackers, belong to a group calling itself The Impact Team, posted a manifesto online excoriating Ashley Madison's so-called Full Delete function, which promises to erase a customer's information for $19, something AM's users have availed themselves of. But according to The Impact Team, the function leaves plenty of information on the site.
"Full Delete netted ALM $1.7mm in revenue in 2014. It's also a complete lie," the group wrote. It then added threats:
Avid Life Media has been instructed to take Ashley Madison and Established Men offline permanently in all forms, or we will release all customer records, including profiles with all the customers' secret sexual fantasies and matching credit card transactions, real names and addresses, and employee documents and emails. The other websites may stay online.

…Too bad for those men, they're cheating dirtbags and deserve no such discretion. Too bad for ALM, you promised secrecy but didn't deliver. We've got the complete set of profiles in our DB dumps, and we'll release them soon if Ashley Madison stays online. And with over 37 million members, mostly from the US and Canada, a significant percentage of the population is about to have a very bad day, including many rich and powerful people.
Krebs nabbed a screenshot of the group's manifesto: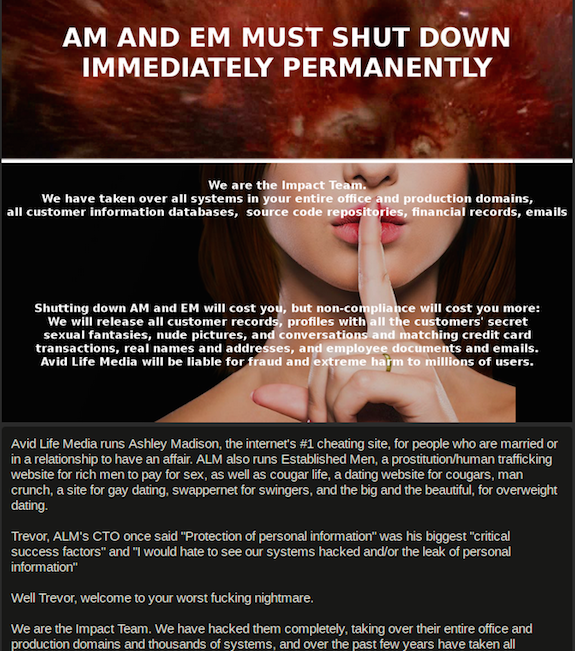 AM believes it may be a disgruntled former contract worker who at one point had access to their servers.
[h/t Krebs on Security]
——
>> Follow Evan McMurry (@evanmcmurry) on Twitter
Have a tip we should know? tips@mediaite.com